Recipe: Roasted Asparagus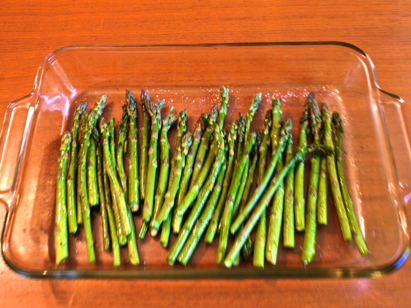 I never really liked asparagus until I learned to roast them. It's so easy, and they caramelize a bit and are delicious! They are in season in spring and if you haven't tried roasting them, you'll be glad you gave it at try. I sure am glad I did!
How to make roasted asparagus

I snap off the ends where (when bent) they want to snap off. (Skinny or fat ones both work well roasted.)
Preheat the oven to 425˚F.
Distribute one pound of asparagus in a Pyrex dish with one tablespoon of olive oil and shake it around a bit so they are covered. We salt and pepper them.
Roast on middle rack for about ten minutes shaking again midway so they don't stick.
They are good hot, warm or room temperature. They'll keep in the refrigerator for up to five days, and we add leftovers in salads and sandwiches with great results.
The above photo is before they are cooked, the below ones, after cooked, so you can see the difference.
Now could that be easier? Enjoy!