Creative Arts Camp 2011: The Bible Lesson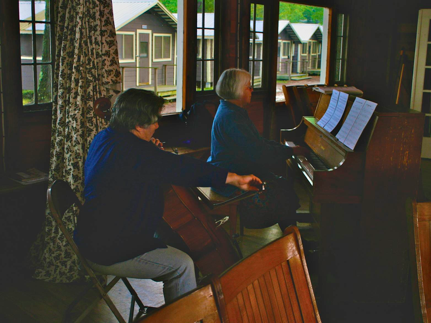 One of the great things about Creative Arts Camp is the morning meeting where we start our day hymn singing, doing collective Bible Study, and sharing inspirations. Just entering the incredible space on that peninsula overlooking the lake on both sides with incredible music by Phoebe (cello) and Linda (piano) is profoundly uplifting. The Bible Lesson had so many pertinent metaphors that I share some below:
• "Sow to yourselves.." Hosea 10:12 It wasn't easy to get away and devote consecrated time to our own individual growth. Most of us work for others and to get time to work for ourselves is a needed privilege.
• "…break up your fallow ground…" Hosea 10:12 We need to prepare our soil to receive the blessing, removing boulders and any obstructions. This is done in full expectancy of the seeds to be sown and the nourishing rain that will surely follow.
• "Does a farmer always plow and never sow? Is he forever cultivating the soil and never planting? Does he not finally plant his seeds… each in its proper way, and each in its proper place? The farmer knows just what to do, for God has given him understanding." Isaiah 28:24-26 We can do exactly what we need to do, in the right way, and in the correct proportions and placement, because God is insuring that we can.
• "Surely your turning of things upside down shall be esteemed as the potters clay: for shall the work say of him that made it, He made me not? or shall the thing framed say of him that framed it, He had no understanding?" Isaiah 29:16 We've got it all backwards and upside down. God is doing the work not us. We are merely obedient to the Mind that made us.
• "Is it not wheat harvest today?" Samuel 12:17 The "harvest" isn't for some other time. There is always a daily harvest that we must be sure to collect.
• "Be not deceived, God is not mocked: for whatsoever a man sowth, that shall he also reap." Galatians 6:7 Be careful what you sow. What you give you will get.
• "Say not ye, There are yet four months, and then cometh the harvest? behold, I say unto you, Lift up your eyes, and look at the fields; for they are white already to harvest." John 4:35 NOW, not some other day!
• "Now he that minstereth seed to the sower both minister bread for your food, and multiply your seed sown, and increase the fruits of your righteousness." II Corinthians 9:10 Look to and respond to what God is doing! We reflect God.
• "what will the harvest be…" Mary Barker Eddy SH 349:1