Recipe: Garlic Lover's Lentil Soup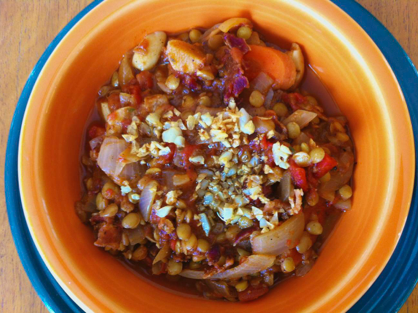 This soup has 40 cloves of garlic for a 4 serving batch, so if you like lentils and love garlic, you will enjoy this soup. I use pre-peeled garlic to make this project easy. The photos below show what the roasted and sautéed garlic should look like, since you'll need to judge it by eye. Also check out below the amazing January light on our table during this simple lunch…
Garlic Lentil Soup
40 garlic cloves, 30 cut in half, 10 diced
1/4 cup olive oil
8 slices of bacon, sliced crosswise in narrow strips
1 large onion, chopped
1 large carrot, diced
1 cup green lentils
1 can (28 oz) diced tomatoes
4 cups vegetable broth
2 tablespoons fresh thyme, chopped
1 tablespoon any vinegar
salt and freshly ground pepper
Preheat oven to 350˚F.
In a small baking dish, toss halved garlic cloves with 2 tablespoons of oil. Roast, stirring occasionally, until garlic is golden brown– no more than 30 minutes.
Meanwhile, in your soup pot over medium heat, cook the bacon until lightly brown and crisp. Remove the bacon and drain it on paper towels. Pour off the bacon fat leaving only a tablespoon in the pot. Add the onions and carrot to the pot and stir until they are tender, approximately 5 minutes. Add the lentils, tomatoes, broth and thyme and bring to a boil. Reduce the heat to a simmer, uncovered, stirring occasionally until the lentils are tender, about 45 minutes. When the roasted garlic cloves are done, stir them in as well.
Shortly before serving, stir in the bacon and vinegar. Season to taste with salt and pepper.
Heat the remaining 2 tablespoons of oil on medium heat. Add the minced garlic and stir until it sizzles and begins to lightly brown, about 3 or 4 minutes. Add to the top of the bowls of soup as a garnish.
Enjoy!