I'm in the SCAN Art Show Starting today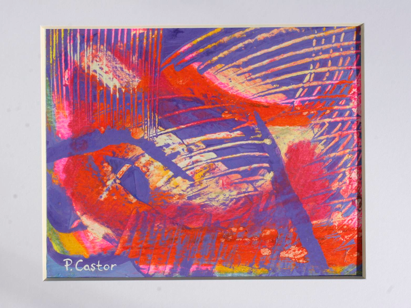 SCAN stands for the Society of Creative Arts in Newtown, and I've been to this annual show titled Color in January for years, but this is the first time it includes any of my paintings. The one above is one of mine in the show; it has yet not been featured on this blog.
My other two are the first and last ones below.They've been featured here before: click here, and click here, respectively. As you can see, not all my work got the best placement, but I'm a newcomer to this show. You can also see from the photos of other people's work below, most of the work was representational. Remarks were made about how abstract work was creeping into this show… I hadn't realized what a traditional bastion it has always been. Others seemed glad the show was becoming more balanced in this way. At the reception, I was thrilled to meet Laura Wilk, whose detailed, luminous watercolor work I had admired last fall (click here for that blog entry).
Anyway, enjoy the art, and pardon the unavoidable glare I got off of many of the pieces. And if you are local, check out the show for yourselves all this week at Lexington Gardens, in Newtown.