Enjoying Our Side Porch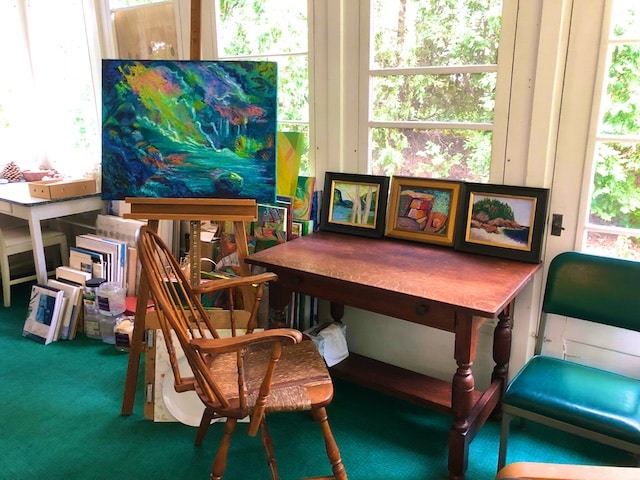 You may remember we spent Memorial Day cleaning out our garage. Well, we spent Labor Day cleaning out our side porch. (Sorry there are no before pictures, but some of you have seen it recently!) Our side porch is a place where I spend a lot of time spring, summer, and fall, when it is warm enough to enjoy the unheated, optionally screened in space.
This past summer, I wasn't even here. It never got put back together from the winter and it had devolved into a mess. Additionally, I thought our younger daughter would be taking my mom's drawing board for her apartment, so I would have had to rework the space after that anyway, so I let it go. It turns out she bought herself a workbench from IKEA, and I delightfully got to keep the drawing board. Finally, I was back home again and wanted to reclaim the space once more, to be able to use it this fall.
We did more than the usual purge and tidy. My husband washed down the walls with bleach, and carefully cleaned each piece of furniture. Since the space is open to the elements part of each year, this was overdue. I sorted empty canvases (look how many– happy dance!) from partially finished work. I really assessed each partially finished piece for next steps and future directions. I love to start work, but I'm going to work on finishing more of them. (This is particularly an issue with my acrylics and oils, where I use a multi step process that need time to dry in between; whereas with pastel I don't have this issue so finish those more directly.)
I use the side porch for my morning prayer time, for reading time (particularly periodicals), and talking privately on the phone. It is a quick retreat when climbing the stairs to my third floor office/studio is not warranted. It is a place where I let paintings dry. The oil on the easel was painted outside, and I can enjoy it as it dries in this well ventilated space. The unfinished piece from camp is on the drawing board awaiting a final flourish. I do art journaling on this side porch and write snail mail there. James and I sit of an evening out there, chatting, while surrounded by crickets.
We just framed three of my plein air paintings from my recent trip for me to see often while out there, reminding me of the awesome time we had, and replacing some from our trip four years ago. I also have rocks and sea urchins from various escapades with our children, a giant pinecone from just outside Sequoia National Park, and a half circumference from our big front tree from after it came down. All that may look like clutter to some people, but for me it feels like being embraced by gratitude.
Made up of repurposed hand-me-down furniture, and very down-to-earth and lived-in, this space has no pretension. I'm out there with the paper recycling! It is not a decorator moment. But somehow it is a little cocoon for me that I emerge from every time feeling like a butterfly. And I'm rejoicing in having it squeaky clean again!
Have you scrubbed clean lately that spot in your home that resuscitates you the most?