Ten Studies of Line and Veiling in Black and White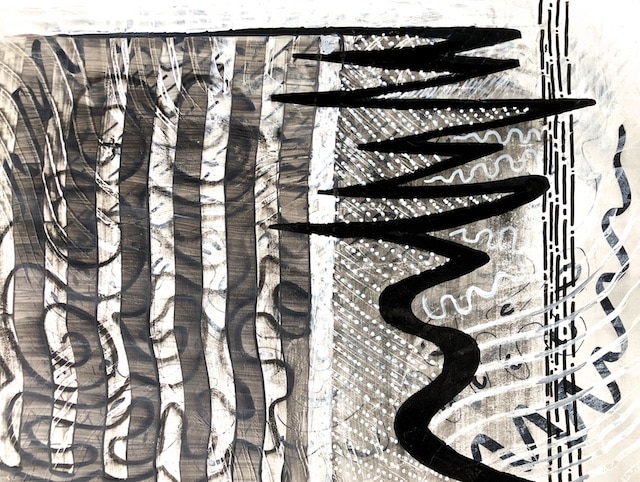 Time to stretch myself with some exercises again!
I was after a variety of lines in each of these, as well as a depth of layers. Each piece has three layers, and I challenged myself to have at least six different kinds of lines in each one, utilizing various thicknesses of them to maximize interest and contrast.
I played with making lines in both graphite and black/white markers, as well veiling them with matt/glazing mediums, and with either zinc white or titanium white, sometimes scraping through layers to reveal what was underneath.
In the past, I haven't liked using graphite in lower layers of acrylic because it smears and gets muddy; in these cases I either embraced that and went with it, or experimented with minimizing it. It is amazing what can be done with the minimum of materials if you are patient and just build on it step by step.
I noticed that while I have a large vocabulary of marks, there are favorites that my hand seems to like to revert to. I did none of these lines with my non-dominant hand which may have helped change that.  In the strongest images here I went cross-purposes in later layers to those of previous layers. When I didn't do that, the essence was lost that these were lines, and they blurred into merely texture.
Not only changing types of line, but unexpected placement and size and density of them, and altering levels of transparency, helps the eye move around the picture plane. The veiling not only adds depth, but creates a whole range of value that contributes to making these images compelling.
Occasionally, lines inadvertently created shapes, although that was not the intention; it is fascinating in this process to watch the subconscious work.
Probably because of the simplicity of process, these mostly unfolded in such a way as my thoughts were elsewhere, giving them a very meditative quality. Nothing was forced here, and they developed rather effortlessly, without much deliberation, although the multiple steps on each one took plenty of time.
Working them in series, allowed an easy, rotating, fluid work flow, moving from one to the next. This continuity may also have impacted some of the similarity of lines, because this was all done at once. I suppose on a different day or week, my fall back repertoire of line quality may have been completely different.
There is a blessing and freedom that comes from working within parameters, and so was the case here. The only reason these look like anything is that I took the time to do a third layer. But even these could be white washed over as well, and taken one more step into complexity. So much of this is about where to stop, but the power of line, the interest provided by veiling, and the value of suspending disbelief in the process, is emphatically clear.