Gertrude Bell Biography (5 Star Book Review)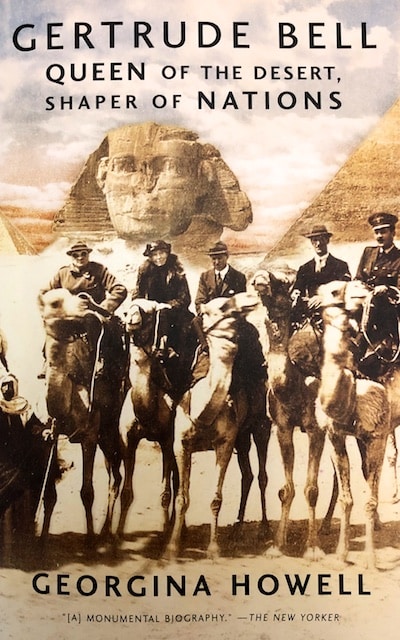 Our older daughter gave me this book for Christmas and I'm sure glad she did! I absolutely loved it and I got one of my book groups to read it too, and they loved it as well. We all gave it five stars.
This is a biography of an amazing Victorian British woman who climbed mountains, befriended Bedouin, and spearheaded Arab independence. One of 60 grandchildren of the Bill Gates of her day, she had the means to do as she wished, which included an Oxford degree in history, learning six languages including Arabic and its dialects, going on 1000 mile camel rides in the desert, being an expert in archeology and photography and mapmaking, serving as a political officer and administrator, becoming a high ranking official in the army, and being the ultimate authority on the "Arab question" at the time Iraq was formed. Friends with Lawrence of Arabia, she totally eclipsed him; even he would say so. She was a stunning powerhouse; you'll like and admire her.
This book is very readable although there is a lot to learn in there, especially about Mesopotamia in the early 20th century. You'll be impressed by how much one life can make a difference. You'll be inspired by this woman's courage in so many varied situations, and by the fact that she just launched forth, collecting expertise as she went, accruing such a vast stock of practical intelligence, allegiance, and social capital across tribal lines that she was bound to have an opportunity to utilize it.
Gertrude Bell is a woman of history you'll be glad to know, and you'll be surprised you didn't already. Her love and respect for the Middle East rubs off on the reader, and you feel more equipped by understanding the history of the region better. Also, her example is so strong, the reader is left feeling like maybe they should get on with what they can contribute of use to the world.
Don't miss Gertrude Bell: Queen of the Desert, Maker of Nations, and buy it for people on your gift lists as well. Reading it results in both learning and awe. Wow.