Recipe: Hot & Sweet Tofu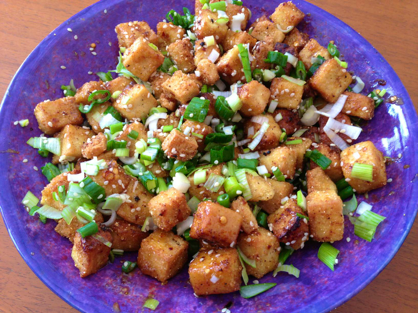 This vibrant sauce is the solution for the dullness of tofu. Don't worry about there being so many red pepper flakes in this, since the honey more than compensates for them, and it isn't too hot.
We don't eat much soy, nor fry very often, but when I saw organic sprouted tofu at Trader Joe's, I made the exception. Most of the oil remains after the frying in this recipe anyway, which makes it clear you are not eating that much of it.
This is dish is crispy, flavorful, and a delicious treat. Plus it is easy and quick to make.
15.5 oz extra firm tofu, water drained from it, patted dry, and cut up in cubes
1/3 cup corn meal
a pinch of salt
2 tablespoons of white sesame seeds
small bunch scallions, chopped
1/2 cup oil for frying (I used avocado oil)
Sauce:
3 tablespoons of honey
1 teaspoon of tamari or soy sauce
1 teaspoon vinegar
2 teaspoons red pepper flakes
1 teaspoon freshly grated ginger
2 garlic cloves, freshly grated
2 teaspoons sesame oil
Mix the ingredients together for the sauce and simmer on low heat until it has bubbled for a few minutes. Then take off the heat.
Dredge the tofu cubes in the cornmeal/salt mixture, until fully coated.
Heat oil on medium high and add the tofu in batches, making sure they don't touch each other to avoid them sticking to each other. Gently tip them over to fry on their other side as well. When they are uniformly golden brown, remove them from the pan to drain on some paper towel to absorb the extra oil. Repeat until all the tofu is cooked.
Place the cooked tofu in a bowl and pour the sauce over it. Then toss with the scallions and sesame seeds. Eat immediately while still hot.
Enjoy!