Dedication for New Lutheran Church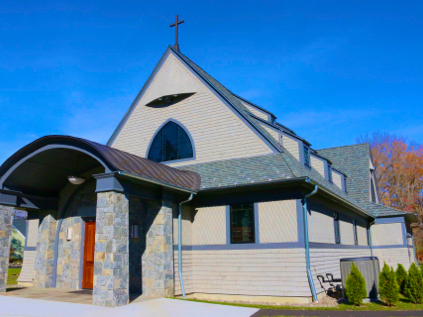 Yesterday I attended the dedication service for the new building of the local Lutheran church. It is a lovely, rather Nordic structure, that has been quite a project in the making for years.
Below, in the bottom photo, you can see a "before" picture to show you how far this congregation has come to be in this magnificent new space. The new sanctuary is surprisingly bright and airy, given how few windows there are.
The pastors are friends of mine from our clergy association, and it was fun to rejoice with them at the culmination of such a huge effort, which was so well done.
Also present from our clergy association was the Roman Catholic priest, and we agreed how fitting it was that the Catholics and Christian Scientists were both there, bookending the Lutherans historically, embracing and supporting them from both sides of the timeline.
I enjoyed hearing many hymn tunes that we have in our church as well…