Cocktail Hour Under the Tree of Forgetfulness (Book Review)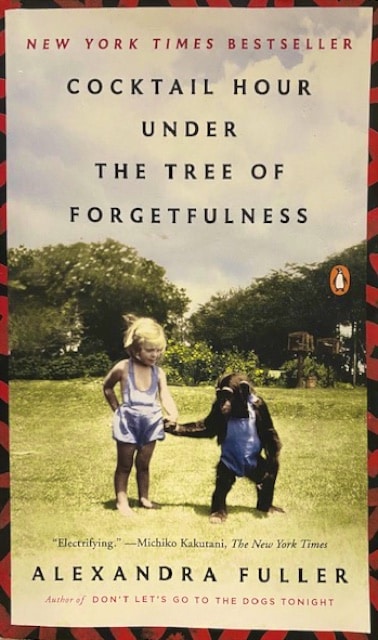 Sometimes the thing about book groups is that you read things you never would have otherwise. This book is one of those. I probably wouldn't have picked it up because it is about an alcoholic bi-polar woman, but then I would have missed this African history lesson, as well as first rate writing.  I ended up rating the book four stars.
As with many memoirs, the author is trying to process and make sense of her rather complicated, colorful, and crazy familial relationships. That seems to be the case here, but the setting around all this– a white family persisting against odds in revolutionary Africa– makes it worth reading.
Also, for a mother as flagrant and quixotic as this one, I thought both author and mother coped fairly well, given what they were up against. I think being in Africa helped; I can't see the mother having coped as well in Britain, for example.
Think in terms of Angela's Ashes, set in the bush in Africa, and you get a sense of where Cocktail Hour Under the Tree of Forgetfulness is coming from. It is a more realistic counterpoint to the much read, more romanticized book, Out of Africa.
There are some laugh out loud moments here though, and the writing is fantastic. I'm not exactly recommending this book unless you read it for the writing, or the history of Africa in the 60's and 70's, or to discuss it. Our book group had a good discussion about the mother/daughter relationship that, for me, made it worth reading.
And if you find this family interesting, there are three other memoirs by this author about her family; this book is the second of the four, and each sheds more light on the ongoing drama of their lives.