Virginia Graduates from St. John's College in Annapolis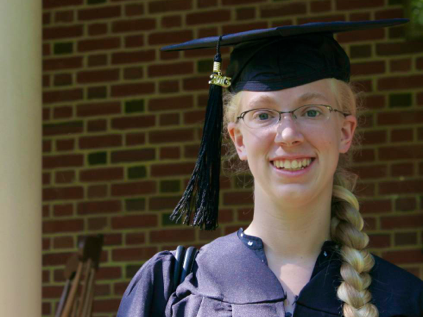 We are so proud of our daughter Virginia who graduated today from St. John's college in Annapolis.  Out of 140 students in her class, 97 made it to graduation.  This is a challenging place, and she has done very well. The college paper picks one senior each year to highlight in an article and this year it was our daughter!   
I've never been to such an intimate graduation before.   My high school class alone was larger than this whole college, and the University of Michigan graduations were held in the football stadium.  This ceremony was held out on the grass, complimented by the most lovely weather you can imagine. It is apparent every where you look how close knit this community is; this is one group who will all know each other at their reunions!
The commencement speaker, a Johnnie alum with a PhD from Berkley, is a professor in New York City, the CEO of Focus Films, and a producer of movies such as Brokeback Mountain. His message was basically that life is hard but worth it.
This occasion was especially lovely given that our daughter has so generously included us in her life here that we have known many of her friends over these four years.  I heard many of these kids effuse to our daughter what a pivotal and influential person she was on campus.  Many are looking forward to saying they knew her when, sure she is going on to great things.  Some said they are looking forward to voting for her, and many thanked her for being a crucial ingredient in helping them realize something important about themselves.
So many exclaimed what an incredibly wonderful role model she was, I finally asked one of them to give me three examples. Promptly the response was, 1) She always expresses enthusiasm, curiosity, and positive energy, 2) She always was incredibly prepared for every class, and 3) She was profoundly God honoring in a very accessible, non judgmental way. Wow, what more could one ask for on Mother's Day?
After the college's reception on the lawn, our daughter held a small reception at her house for the non-college community of people that have nurtured her: church people and swing dance people in particular. As a graduation gift, one of them gave her a initialed business card case with a box of business cards with her name, email and phone number complete with the heading of "Agent of Awesomeness."  The fact that this gift was so very appropriate in a simple, non egoistic way says volumes about how wonderful this child is.
So thank you God for making both this daughter and this lovely day possible. Amen!