Endive Tuna Boats with Avocado Pesto (Recipe)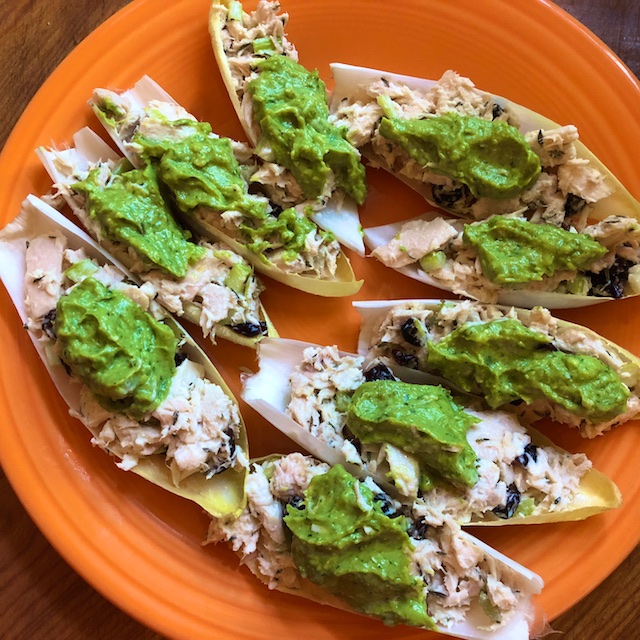 With the warmer weather out it has felt good to eat food that is not hot. This meal is quick, easy, delicious, nourishing, casual, and refreshing. You can also mix up the tuna and avocado pesto and stick them both separately in the refrigerator to assemble these as needed for healthy solo eating, or as a great protein snack whenever you need sustenance. They are perfect finger food for a busy day when you don't have much time to sit down.
Also the avocado pesto is marvelous and would be good on almost anything! But it is particularly great here, so moist and yummy that it compensates well for the fact that tuna can sometimes be dry. The recipe here for the avocado pesto makes more than you'll need for this recipe, so you'll have some leftover to experiment with. Try using it to garnish fish or frittatas, or for mixing in with veggie noodles.
Tip: eat these by holding the thick end of the endive. Then they won't flop and lose their contents. You could also double up the endive leaves if you are worried about this happening.
They would also make great appetizers!
Recipe for Endive Tuna Boats:
2 heads of endive
2 cans albacore tuna packed in water
1/2 cup celery, diced
1/2 cup unsweetened dried cranberries
1/4 teaspoon of dried tarragon
1/4 teaspoon of dried thyme
3 tablespoons good mayo (I use homemade avocado oil mayo)
Cut of the end of the endive, and carefully remove the leaves. Mix all the other ingredients above and fill the endive leaves with the filling. Top with a generous amount of the avocado pesto (recipe below). Enjoy!
Avocado Pesto Recipe:
1 perfectly ripe avocado
1 bunch fresh basil (1/2 cup packed with leaves)
3 Tablespoons lemon juice
3 Tablespoons pine nuts
3 large cloves of garlic
2 tablespoons of olive oil
1/2 teaspoon of sea salt
freshly ground pepper to taste
Add the avocado pesto ingredients to a food processor and blend until creamy.
Place a dollop on each endive tuna boat, and refrigerate the rest in a sealed container for other uses.
Yum! This will become a summer staple!