Book Review: Brewster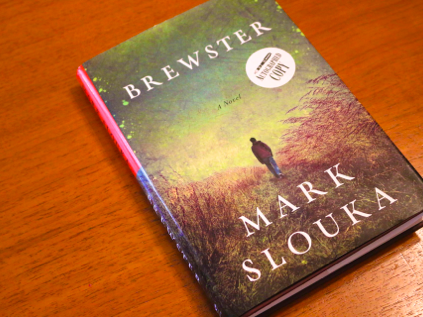 I read this book mostly because my friend at Byrd's Books (one of my favorite independent bookstores) was having an author event about it. Not only is the author local, but this novel is set locally as well.
It is a story of a friendship between two guys in Brewster High School, in the late sixties and early seventies. Both come from dysfunctional families and are good people struggling to be freed from the dingy town as well as challenging circumstances. One of them was a runner, which is also a theme throughout.
 This book is brutal in parts, and this along with foul language, teen sexuality, and substance abuse, made me want to give the book four stars. However, it is a well-crafted story, which rang consistent and true, so with a caveat that you are in for some harshness, I will go out on a limb and give it five stars instead. The subject matter is serious and none of the cruelty is portrayed gratuitously. Additionally, the clipped brevity of voice depicts the dismal mood perfectly.
 Below you can see some quotes from the book that not only bear some more thinking about but give a you a sense of the prose. In the photos below, you can see my photo of the author from this evening, as well as my autographed copy of the book.
 • … "past the darkened classrooms I'd see the grey squares passing by ––rain, rain, rain –– like empty slides in a projector" …
• "'Foot racing is a conviction, a calling. You think Geronimo would have joined a basketball team? You think Thomas Jefferson would be doing lay-ups? No! Jefferson would have been a miler!'"
 • "'Truth is, there's nothing more stupid than fighting something that isn't –– a lack of love, a lack of respect. It's like fighting an empty room. Nobody understands what you're doing.'"
 • "The coffee table was covered with bottle rings like the Olympics gone crazy."
 • …"affluence represses the need for liberation"…
 • … "nobody fights for the reason they think"…
 • "And Frank would tell her about Jesus' love and being forgiven for your sins and she'd say she wasn't sure what a sin was anymore, and love was fine but what did it say that in the whole Bible Jesus never laughed, or even smiled?"
 • "It was respect –– I've never known it so uncluttered."
 • "'Stuff you're doin' to other people you're mostly doing to yourself.'"
 • "Life isn't simple. Literature shouldn't be either."
 • "Run like it matters."