Great Recycling Idea: Everyone's Resource Depot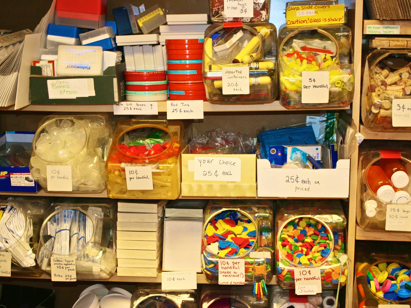 When I was in Farmington, Maine, my daughter and I visited a wonderful place. It was called Everyone's Resource Depot (click here for their website). Every town should have one of these! My hope with this blog entry is to inspire someone else to start one of these in their own town. We all have so much useable stuff that could be put to creative reuse, and crafts people, teachers, Girl Scout leaders, Destination Imagination teams, and homeschoolers, among scores of others, would all flock to find this stuff all in one stop.
Here you will find cast offs from industries and individuals of a large variety of materials, resold at very low cost. Here you'll find paper, envelopes, plexiglass, fabric, leather, boxes, dowels, wood turnings, plastic tubs, shoe lacings, cardboard tubes, buttons, yarn, spools, plastic shapes, foam, telephone wire… and more, as you can see in the photos below.
I bought velvet paper, silver & copper mylar paper, grass paper, wool yarn for felting, flat shapes to embed in gesso in my paintings for texture, contact paper to play with in my box-a-day art journal, things to be used as paint stampers, laminating film for homeschooling, a huge roll of mailing labels, and white crayons to use in watercolor… My daughter bought leather and fleece to make fleece lined moccasins, substrates to use to assemble beaded hairbands, and a slew of wood shapes to make a sculpture out of. We spent hours picking it out; our imaginations were on adrenaline overdrive. We are having a summer's worth of fun for $37 worth of someone else's cast offs. Oh, if only this place was closer!
I hope the pictures below inspire you with the possibilities. Maybe you want to make a beautiful bench out of seat belts too? The options are endless…
If you or someone you know would consider starting one of these in your community, please call Mary at the number on the website and talk to her; she's run this inspired depot for decades and would be happy to help you.