Book Review: House of Daughters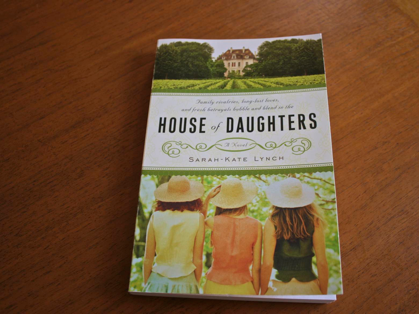 I enjoyed this book even though I'm only giving it three stars.  It was a bit shallow but the setting was different enough to carry the reader through.
In this book there are three estranged sisters who get together after the death of their father; my two sisters and I reacquainted ourselves with one another, as well, when we needed to close two family homes for relatives.  Often during our experience, we'd turn to each other, and laughingly claim that this was right out of the movies. So when I heard of this book with a similar situational premise, it made my to-be-read list. 
However, it turns out that this book by Sarah-Kate Lynch has little in common with our experience, except the happy ending. These were half sisters that had not grown up together, and not only did they not know each other, they didn't really know their common relative, their father, either.
The book is set in the present day in France's champagne country. I know very little about this, but it was interesting despite the fact that I do not drink alcohol.  I had no idea creating champagne was such an art.  Beyond a labor intensive, delicate farming project, there are many steps required in making it, and this book engendered a new appreciation for the drink's elite and celebratory status.  If one wanted to learn about this process, this book provides an effortless – even bubbly – path to this information which is probably much more dry in non-fiction form.
The characters develop slightly. There were quirky touches as well, like the miniature horse that lived in the house, and an ancient, wrinkled matriarch of the gypsy grape pickers, that served as the sister's unlikely fairy god-mother crone, bonding them together and fixing their issues. All in all, it was a nice undemanding read, with the ending as you want it, when you are still willing to hear more.