Recipe: Cheesy Mexican Noodle Bake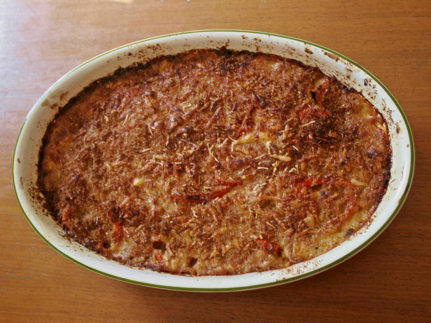 This is spicy, delicious, and deeply satisfying…
Mexican noodle casserole
2 cups whole wheat penne pasta
1 Tbsp extra virgin olive oil
2 cups shredded Cheddar cheese (about 6 oz.), divided
1/2 cup freshly grated Parmesan cheese, divided
1 cup fresh whole wheat bread crumbs
1/4 cup butter, divided
1/4 cup whole wheat flour
1 1/2 teaspoon chipotle pepper powder (or more or less to taste)
1 teaspoon dried oregano leaves
3 cups warm milk
1 Tbsp Dijon mustard
1 cup shredded Swiss or Gruyere cheese
salt and freshly ground pepper
3 tomatoes, thinly sliced
Preheat oven to 375˚F, and grease a 2 liter baking dish.
In a pot of boiling, salted water, cook penne until tender, about 12 minutes. Drain and rinse well under cold, running water. Toss with olive oil and set aside.
In a bowl, mix together 1/4 cup of the Cheddar, 2 Tbsp of the Parmesan and the bread crumbs. Set aside.
In a large saucepan, melt 3 Tbsp of the butter over medium heat. Add flour and cook, stirring until foamy. Continue cooking and stirring, without browning, for 1 minute. Stir in chipotle pepper powder and oregano. Gradually add warm milk, whisking until blended. Continue to cook, stirring, until mixture comes to a boil and thickens, about 7 minutes. Whisk in mustard.
Reduce heat to low. Add Swiss, remaining Cheddar and Parmesan cheeses and cook, stirring, until melted and smooth. Season to taste with salt and pepper. Remove from heat and stir in reserved pasta.
Transfer pasta mixture to prepared dish, spreading evenly. Arrange tomato slices evenly over the top. The sprinkle the bread crumb mixture evenly over the top. Melt remaining 1 Tbsp of butter, and drizzle over top.
Bake in preheated oven 25 minutes until hot and bubbly. Preheat broiler and broil until bread crumbs are crisp and browned, about 2 minutes.
Enjoy!