Annual Meeting 2018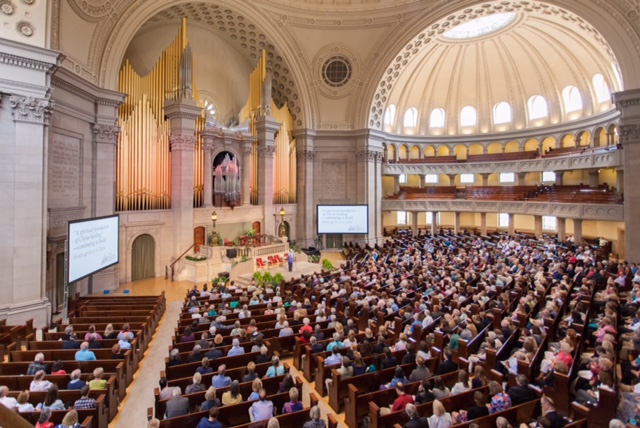 We just got back late last night from a wonderful weekend at Annual Meeting at the Mother Church in Boston. We had a great time!
In the photos below you can see the church, the surrounding plaza, and reflecting pool are in the process of being restored and renovated. It was amazing to see the new sky scraper soaring up behind the church from the tiny piece of triangular property that the church recently sold.
The people are fabulous, and are the reason to go, since the whole event is simulcast on the internet.  I enjoyed all sorts of people, but only photographed a few, some of which I have known before, and some I just met. It is terrific to catch up with people you haven't seen in a long time, and I love the people I met that were new to me too. In the two last photos you can see the ladies from the Congo I met, as well as the wonderful blog readers I met from England. It is so fun to have people that you have never met recognize you and come up and say they love this blog. What a fabulous readership we have out there! I wish you would all comment under the blogs more often and get to know each other!
We stayed with friends out in Swampscott, where the sea is lovely and the rhododendrons are magnificent. We are so grateful for our hosts' gracious hospitality.
Saturday morning my husband attended a meeting for his prison ministry and I walked to the Isabella Gardner Museum (which I'll blog about tomorrow). Saturday afternoon there was a meeting about Reading Rooms and Sunday Schools. Saturday evening there was a great hymn sing, which was a total highlight for me, and apparently you can see me rocking out to it on the video here. Sunday we went to church in Lynn, Massachusetts in the morning (where I met another blog reader, who I hope to get to do a guest blog, since you too want to hear her story), followed by a meeting in the afternoon about our Pastor– the two books– the Bible and Science and Health with Key to the Scriptures. And Monday was Annual Meeting!
Here are my snippets of notes from a weekend full of superb thinking:
Church is a campfire with a warmth that brings people in. Don't scatter the embers. The fire needs to be stoked.
We have the supply and in God's economy demand always equals supply.
There can be no unmet yearning.
Services are always full of potential, never lack.
"Establish you in every good word and work." (II Thess 2:17)
Mary Baker Eddy (MBE) dipped her pen in her heart when she wrote Science and Health with Key to the Scriptures.

"Finally, brethren, wait patiently on God; return bless

ing for cursing; be not overcome of evil, but overcome 

evil with good; be steadfast, abide and abound in faith, 

understanding, and good works; study the Bible and the 

textbook of our denomination; obey strictly the laws that 

be, and follow your Leader only so far as she follows 

Christ. 

Godliness or Christianity is a human necessity: man cannot live without it; he has no intelligence, health, hope, nor happiness without godliness." MBE Message for 01 (page 34)

From a testimony (by friend Nikki –shown below in a light blue dress–when relating a complete healing of her two knees from a skiing accident) She read "muscles are as material as wood" and pondering that idea, she realized that her body "could not talk to her any more than the bureau (dresser) can." I love this healing thought!
Evil is never anything we must fear or fight. The only truth about evil is that it is impotent, nothing.
Progress is the unfoldment of completeness.

"The test of all prayer…

Do we love our neighbor better because of this asking?" Science and Health page 9

"That individual is the best healer who as

serts himself the least, and thus becomes a transparency 

for the divine Mind, who is the only physician; the divine 

Mind is the scientific healer." MBE, Miscellaneous Writings page 59

If we want our church to flourish, we have to flourish ourselves.
Embracing a "less boxed in sense of God and church, and a recognition of what each individual can contribute."
love generated courage
Science and Health has been translated into the Nigerian language Igbo!
How much of the world has only half of the Pastor?
Read and study Science and Health as your hobby and sport.
breaking into jails to free inprisioned thought
Our church is not stuck. It is a movement that is moving. Each one listening to and responding to their own unique leading, integrating to wholeness in the body of Christ. What can we NOT AVOID doing??
Struggle is not the same as failure. Struggle insures spiritual growth, which brings success.
It is not so much about what can I do, but what God can do, which is way more than you can imagine.
It's about joy and love.

Benediction: "Blessed 

is

 the people that know the joyful sound: they shall walk, O 

Lord

, in the light of thy countenance." Psalms 89:15
I am so grateful to have been at this event and to be a working part of this sincere, heartfelt, good-promoting congregation. I love all of them and you!