Goodbye SAAB, Hello VW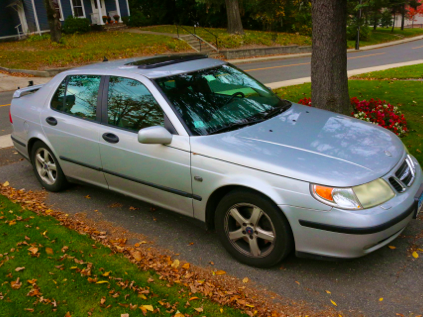 Recently, we took my 12 year old SAAB in for service only to find out that it needed more repair than the car was worth. This car has been wonderful for us, and other than the service light giving us warning, we had no idea that it was ailing. It still seemed in good shape to us.
So it was a complete surprise to consider replacing my car. We had just paid off my husband's van and were looking forward to a spell without car payments. Additionally, I learned this news the same day that my good camera died.
Blog readers will remember that buying this SAAB was a lovely demonstration of divine Love's care, made possible through this blog, after my previous beloved VW was totaled as the middle of a ten car pile-up on black ice. (If you came along on this blog since that event in 2009, those two blog entries about my former car change are worth a read, since God's hands were all over that experience.)
Last week, we went car shopping right after buying that new camera and bought this car on the same day. This recent trade up of cars also had God's hands all over it, but in a very different way. Fortunately, this time all transpired very quietly and smoothly– not only without trouble, but so effortlessly I was tempted to wonder about it.
My former VW was a stick shift and I missed that, but the SAAB that I've been driving (although an automatic) was a turbo, and I really appreciated that too. I thrived on both the get-up-and-go of the turbo, as well as the communion with the machine that a stick shift afforded. If I could get a solid European stick shift turbo with great gas mileage, that's what I would want. After test driving a few cars it became clear that the VW Jetta TDI (Turbo Diesel) had all that. Its diesel engine can easily get forty miles per gallon. But could I find one in a stick shift?
The internet quickly pinpointed the car I bought: a black stick shift 2012 version of a VW Jetta TDI at a pre-owned dealership near here. I've never had a car so new; this one has 29,000 miles on it and the price was reasonable, made competitive by the internet listing system. We test drove it and made arrangements to buy it.
Meanwhile, we sold our 12 year old SAAB (with 132,231 miles on it) to a 22 year old who is going to fix it up for himself. The money from this sale equaled our down payment on the new purchase. We delivered our old beloved SAAB to him yesterday, and picked up our new car today. And the monthly car payments on this new car are significantly less than our van's had been, so we still feel ahead.
This new VW hugs the road magnificently; it is incredibly zippy and fun to drive. I can push a button on the steering wheel and answer my phone in surround-sound Bluetooth. It has satellite radio, which I've never had. The stereo attaches to my iPod to play music…
On this post, you can see goodbye photos of our dear silver SAAB, as well as hello photos of our new black VW.