Grace Notes #29 (with Photos)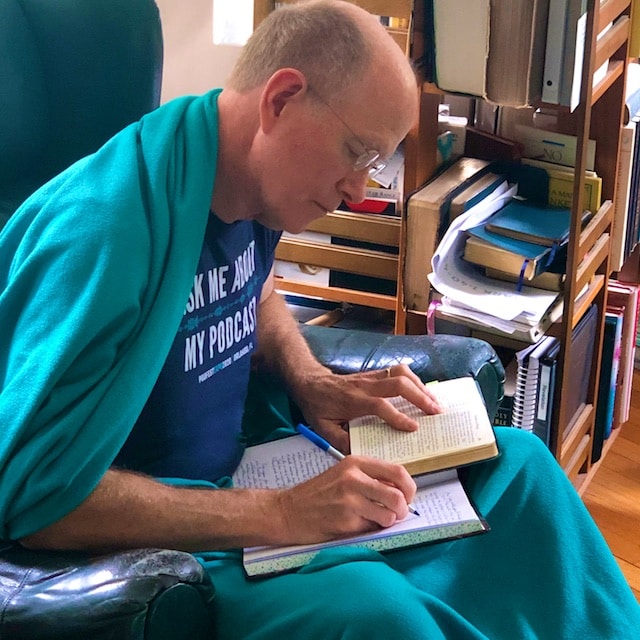 This is a periodic blog feature I call "grace notes." It occasionally captures my jottings of incidental gratitude. My hope is that this practice will make me (and you?) more aware of the constant flow of amazing good we are perpetually steeped in, which we are surrounded by all the time. It is here only asking to be noticed and amplified.
So now I am furthering my ongoing goal of appreciating such a continuous, overflowing abundance of random good. I've even taken photographs of some of them with my iPhone, which you can see in this post.
So let's start this gratitude list with:
My husband. He doesn't always top these lists, even though he deserves to. He is so dedicated and earnest, it is truly remarkable. And if you've listened to his podcast, you know he's sweet and thoughtful, conscientious and devoted. He's very supportive of me and helps out a lot on all sorts of stuff, from tax prep to laundry and washing dishes. His gardening skills are legendary. I'm glad to have coparented with him too, and now I'm glad to have shared this pandemic time with him as well. We live, work, play, chat, and sleep together. He's my best friend, and the view above, taken recently, is a totally typical one of him. I find it endearing.
If you haven't listened to his podcast, The Bible Speaks to You, I recommend it. He is coming up on his one year anniversary of weekly broadcasts. This project has given structure to our weeks during this rather formless time of quarantine. I'm thankful that he already has a burgeoning listenership all over the world, for good reason. When a sincere heart speaks, sincere hearts listen.
I'm grateful that we've finally had a few meals out, before we head back inside for an isolated winter. The photos of food in this post were all cooked by others than myself. As much as I like to cook, I like to sample the creativity and energy of others as well.
I'm grateful too to have been at a few socially distanced gatherings with bonfires and friends. As great as zoom is, in person is better, and we've found ways to be together while still respecting the parameters of this pandemic.
I'm grateful for social media, so I don't feel so distant from people. My new grand-nephew, shown below, is an example. I haven't even met him yet, although I am still able to watch him grow.
One of the good things about COVID is that I've met and have begun a relationship with a terrific neighbor, who has been here all of fifteen years, but it took being stuck at home for months, bereft of our usual lives, to start a dialogue. We had her over for a nice socially distanced dinner at our picnic table. She has an amazing story that I'm trying to get her to share with all of you. (And she's now a fellow blog reader so we can welcome her here.) Anyway, I'm grateful that we hit it off, and look forward to more. It is just proof again that every cloud has a silver lining.
I'm grateful that our oldest daughter bought her first car! It is a Mazda S3 2011 with 48,000 miles on it (pictured below– doesn't she look thrilled?!) I'm grateful for what this does for her independence, and that she got something affordable, but nice. I'm also grateful for her friend that went with her car shopping, who really helped her navigate the process in several indispensably practical ways.
I'm grateful for Costco and the farmer's market, and for all the essential workers that keep the food chain humming.
And thank you to growers of flowers everywhere; just like I love food by others, flowers by others are appreciated too!
I'm grateful we've had enough flowers to share (see the vase of our flowers in someone else's home below.) I'm grateful too for all the produce we've had from our yard, as well as our freezer that will keep it fresh through the winter. I'm grateful too that we had a superabundance of that to share. For example, we had a colossal bunch of kale that perpetually fed not only us but friends and neighbors, who stopped by with bags to fill with it when they were out for walks. It was the plant that gave and gave and gave, never looking depleted.
I'm grateful for a zoom time together with friends from camp, since we were not able to get together this year. On our zoom chat, I carved the leaf stamp you can see below, and it was fun to see what others made during our time together too.
I'm grateful for all my/our ongoing hikes. They have been so sanity inducing, and life affirming during this strange time.
I'm grateful for all my book groups. They get me to read things I wouldn't have otherwise, and I thrive on the good discussions we have.
I'm grateful our friends got us out on their sailboat, and for all they do for our zoom church. I'm grateful for all our church friends in general; they feel like family.
I grateful I hear from our youngest daughter almost everyday.
I'm grateful to be getting regular, thorough quiet time for spiritual study.
I remain grateful, as I posted last week, that we were able to get a side of our home restored and painted.
I'm grateful that I am in regular contact with my sisters, and that we can be supportive of one another.
I'm grateful that the beautiful colors of fall are coming on.
I'm grateful for colorful sunsets.
I'm grateful for my Vitamix blender, Cuisinart food processor, and handy spiralizer.
I'm grateful to be learning more everyday.
I'm grateful for hopeful signs wherever I see them, even spray painted on the sidewalk.
I'm grateful for the light at the end of every tunnel.
I'm grateful gratitude is a spiritual practice. It feels so good!
I'm grateful to you dear blog readers, for sharing this space with me, for reading my posts and scrolling through all my art and photos. Your presence here means more than I can say. Thank you for your precious time and interest, your comments and love.
Thank you God for being infinite, ever-present, all-powerful good, and for allowing no unlikeness to exist!
Post some of your grace notes in the comments below!