New Poem By Me: Wandering Stars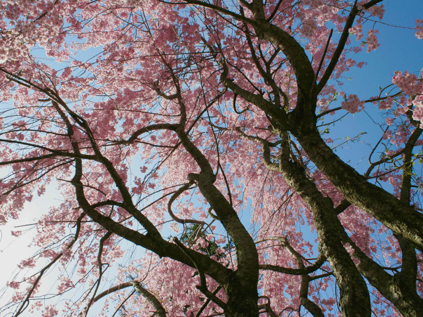 All Wandering Stars
I am a transplanted Michigander
germinated in New York City
before setting down roots
in small town Connecticut, where I am now
lolling in the sun on my front porch.
The day is spectacular –
the weeping cherry tree is festooned with blossoms overhead
the pungent mulberry colored buds of the earliest lilac
are bursting open and spewing fragrance
like a flower girl does by the fistful.
A portly Asian woman, oblivious of being watched
ripples in her over eager tank top and cutoffs,
lingering while her gray poodle sniffs
our tangle of pachysandra on the corner.
In an ancient clipped dialect, to someone in the cell phone far away,
she ejects a barrage of clearly enunciated verbiage.
A nondescript car quietly pulls up
with a driver hugging the steering wheel
like a closely guarded secret,
and cautiously turns into the driveway next to mine.
Our new neighbor is a Muslim covered head to toe in light beige
a cheery but careful person whose name I don't know yet.
Diagonally across the street,
sitting on the steps of a rambling Victorian
a couple boisterously prattle in Spanish,
emphatically gesticulating like Italians,
toward a languid toddler who blissfully ignores them
totally focused on her plastic trike and dazzling lime sandals.
I think about the shooting star I saw last night
which arced –rainbow fashioned–
from one far end of the sky all the way to the other
in a slow blaze of magnificence and import;
such a powerful trajectory can be so easily missed.
It strikes me now how stellar it is
that we are all ourselves wandering stars
each orbiting in our own heaven within us,
displaced and in transit
each in a world of our own inside the gaping universe.
Even the cherry blossoms let loose
launching onto the soft breeze
and flutter off like butterflies
only to then whoosh as simulated snow showers
with petals scattering, starlike and glittering.
Vibrant flashes of brilliance streak beyond stereotype
the unexpected and random, transfer and traverse
in layered concentric constellations
filled with projectiles that gleam and glow far from home:
there is a whole cosmos right here.
Polly Castor
5/4/13