Unconstructed Fish Taco (Recipe)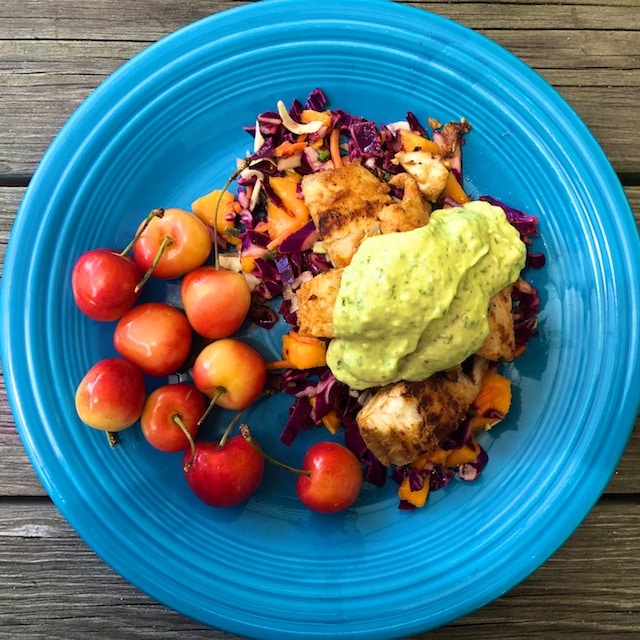 These are perfectly summery for this time of year! They are delicious, colorful, and simple to prepare.
Previously, over the years, I've ordered fish tacos in more restaurants than I can count, and I like these better! They are full of flavor (mostly from all that lime) but not spicy. It is a beautiful dish too, and although there are three separate parts, it is easy to put together. The avocado crema makes enough for two recipes and survives in the fridge just fine, so the second time you make this, it is even easier.
If you love a tortilla or treasure making these a hand-held delight, feel free to warm some up and fill them in the layers described here. For myself, I prefer them unconstructed, and plated in a layered stack. Also, if you want it spicier, add a little pico de Gallo in your layers. We skip that too.
The mango, halibut, and cherries (for the side) came from Costco, and the shredded cabbage, avocado, jalapeno, and citrus came from Trader Joe's. Cilantro was from our garden!
If you don't have halibut, mahi mahi would be an acceptable option, although halibut is hard to beat, if available. You can shred your own red cabbage for this as well, instead of using my store-bought shortcut.
Unconstructed Fish Taco Recipe
For the fish:
4 (6oz) filets of halibut, cut in large chunks
2 Tablespoons avocado oil
1/2 teaspoon kosher salt
1/4 teaspoon freshly ground pepper
1/2 teaspoon garlic powder
1/2 teaspoon paprika
1/4 teaspoon cayenne
juice of 1 lemon
For the slaw:
1/2 small package of shredded cabbage, big chunks shredded further
1 mango, peeled and diced
1 large or two small jalapeno, seeded and minced
juice of three limes
salt and pepper to taste
For the Avocado Crema:
1/2 cup mayonnaise (my homemade here)
1 ripe avocado
juice of 2 limes
1 teaspoon of white vinegar
2 cloves garlic, minced
1/4 cup fresh cilantro
salt and pepper to taste
First mix up the marinade for the fish and coat the fish with it, placing it in the refrigerator, covered, for a 1/2 hour.
Meanwhile, mix the slaw together and set aside. Then make the avocado crema in a food processor, whirling until smooth.
Cook the fish in a large skillet over medium high heat, 2-3 minutes per side, with the marinade also in the pan.
Assemble with the slaw on the bottom, followed by the fish chunks, and then top with the avocado crema.
Enjoy!