Book Review: Sweetgum Knit Lit Society/ Knit for Love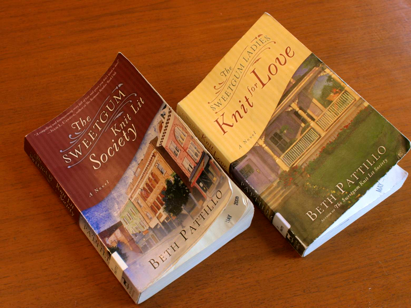 When I read the first of these two books, I was unsure if it was good enough to review here, but I liked it enough to read it's sequel which I thought was even better. And after recently reviewing a book I didn't like half as much which I gave five stars, I felt compelled to rave about these two books that I liked far more than their probably three or four stars would indicate!
These books may be simplistic, easy reads. Without looking deeper into them they may seem trite, based so much in the banalities of everyday small town life to be beyond note. But this is exactly what makes them genuine and sweet, which is sometimes just what you want to read. Nothing sexy, nothing violent, none of the ten commandments broken here, just heartwarming stories that are down to earth and based in unadorned truth. Quite refreshing, that, I'd say!
The women of the Knit Lit society get together once a month to discuss books and knit, both activities that I enjoy. But beyond that, they share their lives, their trials and as well as their joys and progress. Parallels can be drawn between the women in the story and the books they are reading: in the first book the women read "girlhood classics" like Little Women and Pollyanna, and in the second book they read romances like Gone with the Wind and Pride and Prejudice. Each individual woman is sketched so real that you enjoy getting to know them better, so much so that I was sorry when the second book was over, and now I'm counting on a third book to come out in this series!
These books are much better than the recently popular Friday Night Knitting Club, and would be more aptly compared with Jan Karon's bestselling Mitford series. See the backs of both the books below. I'm better for having read them, and thought you might enjoy them too.