Recipe: Watercress and Cauliflower Soup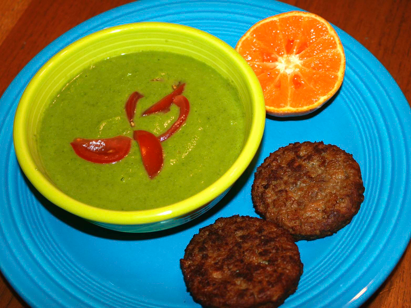 This is an easy soup that is both filling and light:
Cauliflower and Watercress Soup recipe
2 Tablespoons Olive Oil
1 cup chopped onions
1 quart (4 cups) vegetable broth
6 cups coarsely chopped cauliflower
1 teaspoon salt
6 cups chopped watercress (thick stem ends removed)
ground black pepper
In soup pot on low heat, warm the olive oil.
Add the onions and cook, stirring occasionally, until softened but not browned. (5 to 10 minutes.)
Add the broth, cauliflower, and salt and bring to a boil. Reduce the heat and simmer covered until the cauliflower is tender (about 15 minutes.)
Remove pot from the heat and stir in the watercress.
In a blender, puree the soup in batches until smooth and uniformly bright green. Season with black pepper to taste.
Garnish (if you like) with croutons, a dollop of sour cream, chopped fresh tomatoes, or all three.
Above and below you can see it in a couple of our recent meals…
Try it and enjoy!