Curried Sweet Potato & Carrot Soup Recipe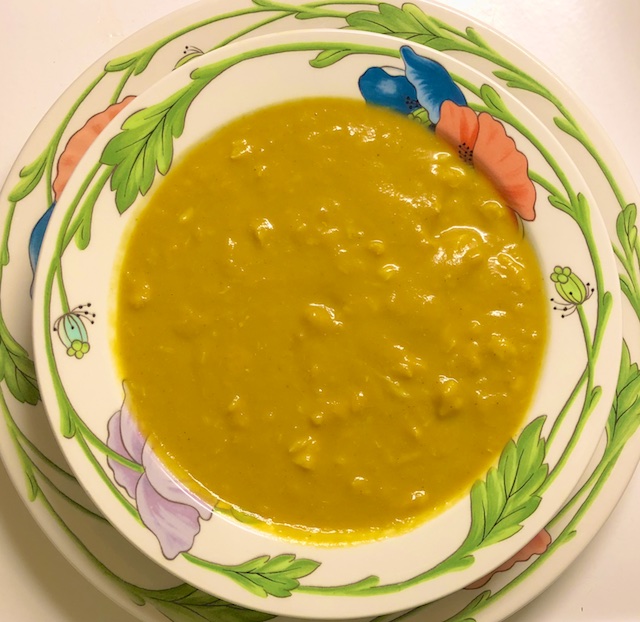 A good slow cooker recipe is always welcome, but especially this time of year. You can eat it as is, simply totally pureed, or like us, add protein after it is all smooth for a little texture, and for it to be a complete meal a bowl.
Also, I used these tricolor carrots, leftover from Thanksgiving, as seen in the photo, but I usually use orange ones. The color is prettier than this with the orange ones. The Japanese sweet potatoes, shown in the photo below, have purple skin, but inside are lighter in color than regular sweet potatoes, and are also less sweet.
Curried Sweet Potato and Carrot Soup Recipe
1 Tablespoon coconut oil
1 large leek, sliced thinly
1/2 pound carrots, sliced
1 Tablespoon curry powder
1/2 teaspoon sea salt
1 teaspoon grated fresh ginger
3 garlic cloves, minced
2 Japanese sweet potatoes, peeled and chopped
3 cups vegetable broth
1 can full-fat coconut milk
4 tilapia loins (not from Asia) optional
In a large skillet over medium heat, melt the coconut oil, and add the leek and carrots. Cook, stirring, for about 7 minutes, until the leek is soft. Add the curry powder, ginger, salt, and garlic to the pan, and stir for a couple minutes until fragrant. Transfer all this into the crock-pot.
Then add the sweet potatoes, broth, and coconut milk to the crock pot.
Cook, covered, on low for 4 or 5 hours.
Puree the soup with an immersion blender or in an upright one.
If adding the optional fish, poach it in an inch of water, turning the fish to cook it on both sides. When fully opaque and falling apart, flake it to bits, and add both the fish and the poaching water to the soup.
Serve while still hot.
Enjoy!