Bang Bang Shrimp (Recipe with Mango Slaw)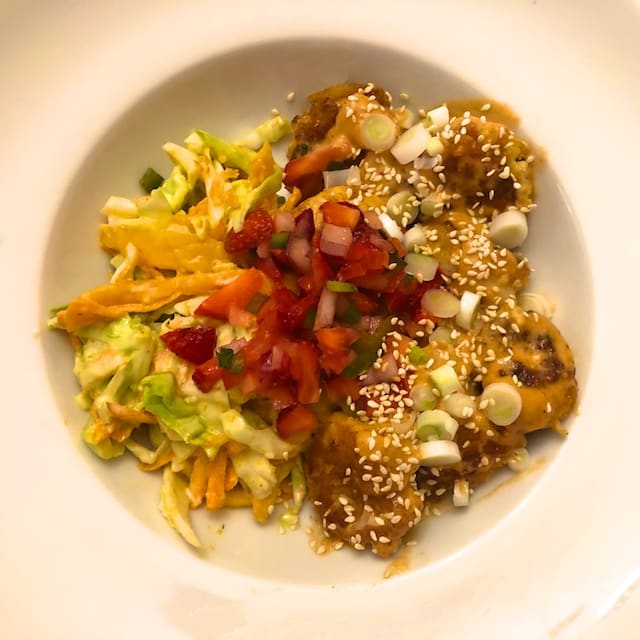 This is something I often enjoy ordering in restaurants, so it has been fun to discover a way to have them at home. Often in the restaurant, they are too spicy, so my version here is rather mild. Add more spice as indicated if you want them hot and spicy.
I served them with mango slaw, so that recipe I include below as well.
Plus these are gluten free!
Bang Bang Shrimp Recipe
For the Shrimp:
1 pound shrimp, peeled and deveined
2 eggs (or one extra large)
1/3 cup coconut flour
1/4 cup arrowroot
1/2 teaspoon salt
3-4 Tablespoons avocado oil
sliced scallions for garnish
sesame seeds for garnish
For the Bang Bang Sauce:
1/3 cup mayonnaise (my homemade here)
1 tsp hot sauce (or double if desired)
2 Tablespoon ketchup (I use Primal Kitchen's unsweetened)
1 Tablespoon coconut aminos
1 tsp garlic powder
1/4 teaspoon salt
For the Mango Slaw:
Two mangos, sliced in strips
1/3 cabbage, shredded in narrow strips
2 carrots, grated
2 Tablespoons Ranch Dressing
1 Tablespoon Habanero Ranch Dressing
Mix together the sauce.
Mix together the slaw.
Scramble the eggs in a shallow bowl, and stir together the coconut flour, arrowroot powder, and salt on a large plate. Have another large plate at the ready.
One at a time, coat each shrimp in the egg and dredge in the flour mixture, coating all sides. Set on the extra plate. Once all the shrimp are ready, heat the avocado oil over medium heat in a large pan (sometimes I use two so they are not too crowded). Fry shrimp in a single layer.
Let the bottom of the shrimp completely brown (3 minutes) before you flip it to cook through on the other side. Once fully cooked and crispy, remove shrimp to a bowl and toss with the sauce, careful not to disturb the crusty coating.
Garnish on the plate with green onions and sesame seeds, and serve with the mango slaw. (Above I also added strawberry salsa for color.)
Wonderful, eh? Enjoy!