Sweet Potato Bean Burgers with Yogurt Sauce (Recipe)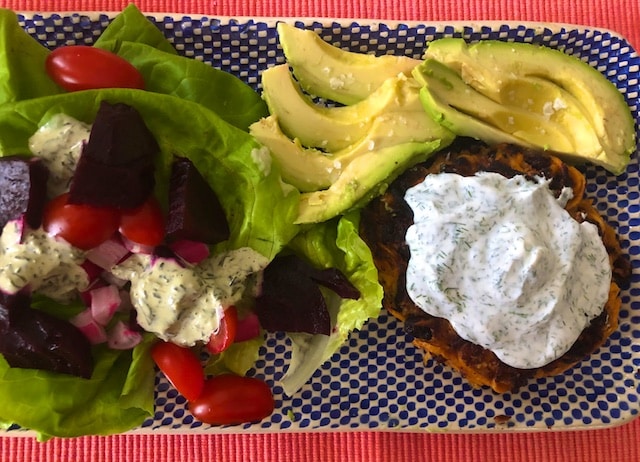 These are yummy and easy and filling. They are great to make with leftovers from the refrigerator.
We eat these without a bun, although they would hold up to a bun if you want one. We tried them as large burgers (the recipe makes four of those) or as sliders (it makes 12 of those) and we like them both ways.
(If you want to make this vegan, substitute in vegan mayonnaise and coconut or almond milk yogurt.)
Sweet Potato Bean Burger Recipe
for burgers:
2 cups sweet potato, grated
1/2 cup old-fashioned rolled oats
1/2 cup black beans
1/2 cup refried beans
1/4 cup mayonnaise (my homemade here)
1 1/2 teaspoons curry powder
1 teaspoon garlic powder
1/4 teaspoon salt
1 Tablespoon fresh squeezed lemon juice
1 Tablespoon salsa
2 Tablespoons olive oil
for yogurt sauce :
2 tablespoons fresh squeezed lemon juice
2 Tablespoons fresh dill, chopped
1/2 cup plain yogurt
Pulse oats in food processor until finely ground. Add to bowl with grated sweet potatoes, black beans, refried beans, mayonnaise, curry powder, salt, lemon juice, and salsa. Mash the mixture together, stirring to combine.
Shape into patties. (You can refrigerate or freeze spares at this point.)
Stir yogurt, dill and lemon juice together and set aside.
Heat oil in a skillet over medium high heat. Add patties and cook until brown, approximately 3 minutes per side.
Eat immediately with yogurt sauce on top.