Recipe: Lentil Walnut Pasta Sauce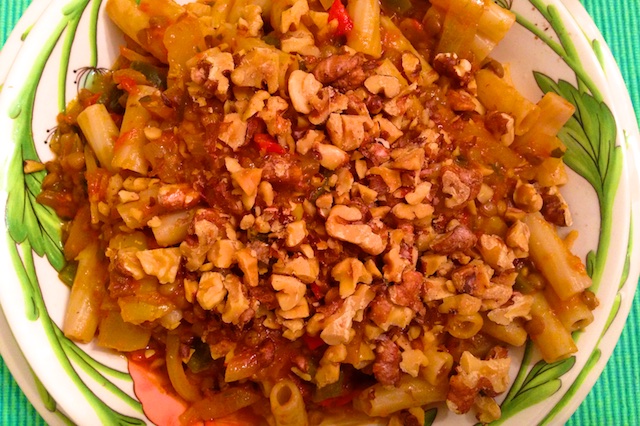 I've been cooking more lately on a wing and a prayer instead of researching or following recipes. In that fashion, I stumbled on making this, which is really good.
Normally you'd think of putting parmesan cheese on pasta sauce, but the toasted walnuts give a similar effect, while bringing the dish wonderful undertones of autumn. This recipe is completely vegan, and my husband loved it, saying that it was good enough for company.
We served it over rice penne pasta, but you could use the pasta of your choice. There are a lot of different parts to putting this together, but if you do them each simultaneously, it comes together rather quickly.
2 cups rice penne pasta
course salt
1/2 cup small french lentils
1 1/4 cup vegetable broth (plus a little extra)
1/2 cup walnuts, chopped
2 or 3 large tomatoes, cut in chunks
1/2 large sweet onion, chopped
2 peppers (sweet, bell, poblano, or Italian), diced
2 hot peppers of your choice (we used our homegrown "lemon drops" shown below)
1 cup of your favorite marinara sauce (ours came from the farmer's market)
Preheat the oven to 400 degrees.
While the oven is preheating, toast the walnuts until fragrant. Set aside to cool.
Cook the lentils in the broth, boiling for the first 5 minutes, and then turning down to a simmer for 25 minutes.
Put the chopped tomatoes in the oven to roast for a 1/2 hour, or until you add them in toward the end.
Put the salted pasta water on to bring it to a boil while you chop the onion and peppers.
Sauté the onion and peppers in a bit of the broth on medium high, until soft.
Put the pasta on to cook (approximately 10 minutes).
Add the lentils and the marinara sauce to the onions and peppers, and continue to saute, stirring occasionally.
Drain the pasta.  Add the pasta to the sauce, along with the roasted tomatoes. Stir until well mixed.
Serve with the roasted walnuts on top.
Yum! Enjoy!