North Carolina Food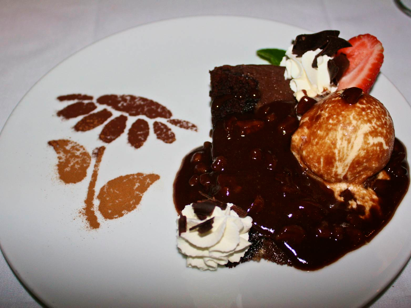 I went to three delicious restaurants while away. The first was Nantucket Cafe (see their website here) and I must apologize for no photos from there; I simply lit into a wonderful salmon salad. (My sister loves their incredible chocolate cake!)
At 411 West near the UNC campus in Chapel Hill (click here for their website) I had the roasted pear and gorgonzola salad, and the homemade red pepper pasta with crab and mushrooms in a cream sauce, as seen first and second, below.
Then at Parizade in Durham (click here for their website) I had a delicious crab cake appetizer followed by grilled salmon with tzatziki over spinach. To top that off I had the rich chocolate/carmel desert above (and check out below the plates prepared with cinnamon and stencils ready for the desserts below.)
Anyway, all these restaurants I'd recommend and we not only enjoyed the food but one another's company. Give them a try when you are in the area, even if you are not on a salmon/crab/salad/chocolate kick like I seem to have been on! There are many other choices to be had in all three of these spots. Yum.