Recipe: Beet and Goat Cheese Salad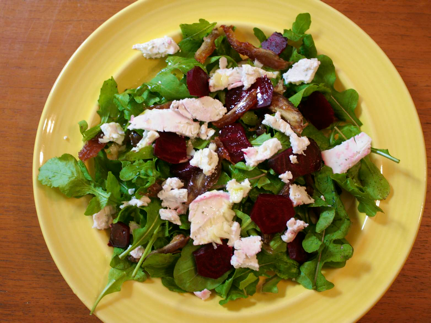 This is what I had for lunch today. It was wildly wonderful… stunningly delicious. I got the recipe out of a cookbook I'm enjoying from the library that has photos of every step in a recipe. It is perfect for visual learners like me when a picture is worth a thousand words. It is actually one of a series called My Cooking Class, depicted below. Anyway, this salad rocketed to the ranking of a classic keeper recipe after one tasting, and I'm not even crazy about all the ingredients separately. Give it a try…
Beet & Goat Cheese Salad
1 pound baby beets
5 ounces goat cheese
6 Medjool dates, pitted
7 ounces baby arugula
1/3 cup walnuts, toasted
Dressing:
3 tablespoons extra virgin olive oil
1 clove garlic, chopped
2 tablespoons white wine vinegar
2 teaspoons honey
Preheat oven to 400˚F.
Put the beets into a roasting pan and bake 40 minutes, or until soft.
Cut the beets onto slices and also slice the goat cheese and dates.
To make the dressing, whist together the oil, garlic, vinegar and honey in a bowl.
Arrange arugula, beets, goat cheese, and dates on a plate, drizzle the dressing over the salad and sprinkle the walnuts on top.
Enjoy!!
Vegetarian