Recipe: Curried Sweet Potato and Millet Soup with Tilapia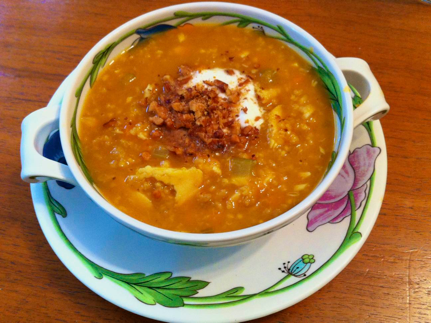 In our busy household, we love food that can be easily warmed up to instantly be a complete, wholesome meal. This soup fits that bill; it combines protein, whole grain fiber, vegetables, and most importantly, delicious flavor. This soup is so unique, it is a welcome departure from anything else you are used to eating. It also has the advantage that it does not take long to make. Give this one a try; you will be glad you did!
Curried Sweet Potato Soup recipe
1 Tbsp vegetable oil
2 onions, finely chopped
2 carrots, peeled and diced
2 stalks celery, diced
2 cloves garlic, minced
2 teaspoons minced ginger root
2 teaspoon curry powder
1 teaspoon freshly grated orange zest
2 cups sweet potato puree (I use a 14oz can but you can also peel, bake and mash two sweet potatoes)
6 cups vegetable stock
3/4 cup millet
3 tilapia loins, thawed (or omit for vegan soup)
1 cup orange juice
1/4 cup pure maple syrup
salt and pepper
Plain yogurt and toasted chopped walnuts for garnish
Toast millet in a dry skillet over medium heat, stirring constantly until it crackles and releases an aroma, about 5 minutes.
In a large stock pot, heat the oil over medium heat for 30 seconds. Add onions, carrots and celery and cook, stirring, until the carrots have softened, about 7 minutes.
Add garlic, ginger, curry powder, and orange zest, and cook, stirring, for 1 minute. Add sweet potato, stock and tilapia. Stir well and bring to a boil. Stir in millet. Reduce heat to low. Cover and simmer until millet is tender and flavors have blended, about 30 minutes.
Add orange juice and maple syrup and heat through. Season to taste with salt and pepper. Ladle into bowls and garnish with toasted walnuts and a drizzle of yogurt.
Enjoy!