Recipe: Vegetable Soup with Swiss Chard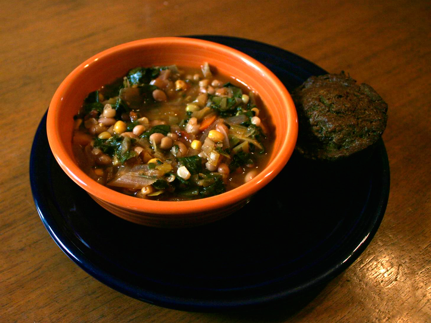 Ever want to know what to do with the beautiful Swiss chard you see at the store or at farmer's market? Or maybe, like us you've got so much from the garden that you are looking for alternative ways to eat it?  This delicious vegetable soup is your happy solution!
Vegetable Soup with Swiss chard
1 Tablespoon extra virgin olive oil
2 medium sized onions, sliced
1 leek, white and green part, thinly sliced
12 cups vegetable stock
2 celery sticks, sliced lengthwise and cut into diagonal pieces
3 carrots, peeled, cut lengthwise, and cut into diagonal pieces
1 Tablespoon dried oregano
1 Tablespoon dried basil
1/2 teaspoon dried thyme
2 bay leaves
4 Tablespoons chopped fresh parsley
2 teaspoons salt
2 ears of corn, kernels scraped off
1 bunch Swiss chard stalks (about 2 cups) sliced diagonally
1 yellow squash, quartered, and sliced on a diagonal
1 cup of green beans, cut into 1 inch pieces
1 14oz can crushed tomatoes
3 cups Swiss chard leaves that have been washed, stripped from their stalks and sliced into strips
1 cup cooked white beans
Parmesan cheese to taste
In a large stock pot, heat oil and saute onions and leek for 10 to 15 minutes, until golden and sweet (first photo below.)
Add stock, celery, carrots, herbs, 2 tablespoons of fresh parsley, and salt. Bring to a boil and simmer, partially covered, for about 15 minutes.
Add corn, chard stalks, squash, green beans, and tomatoes and simmer for another 10 minutes.  Turn up heat. Add Swiss chard leaves and cook for 5 minutes or until chard is tender.  Add the cooked beans and last two tablespoons of parsley.
Serve each bowl with a sprinkle of Parmesan cheese.
Makes 4 1/2 quarts (8 servings)
Enjoy!