Movie Review: Courageous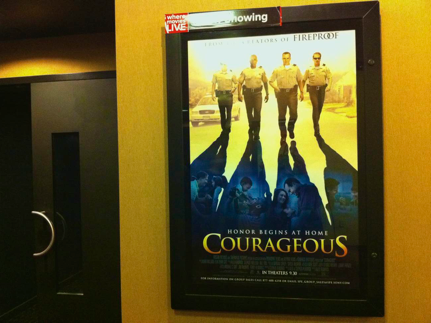 I took a friend's recommendation that every husband and father should see this movie, and went to see it with James. I am glad I did. I would give this movie five stars, not for its B rated cinematography, but for bringing home a strong message of the importance of fathers having good relationships with their children and being good examples for them as well. So many problems in our society would disappear if this was more widely done.
This movie tells the story of four cops (and one of their friends) as fathers. Each one is put in a position where they needed to be courageous both for their own integrity as well as their family's sake. Each one had a different type of father that had influenced them. Fatherhood is a crucial role; is "doing good enough" good enough?
This movie takes a stridently unapologetic Christian approach to this topic, which isn't surprising since the film itself was actually created as a ministry of a Baptist church in Albany, Georgia. What is more amazing and encouraging is that it has become a box office hit. In a world too full of scary and violent movies, there is a market for needful inspiring messages as is conveyed in this movie. Hopefully many people will become better parents as a result of seeing this film. If you see this, you will both laugh and cry, but will also examine your heart, and come out the better for it.