Book Review: What the World Eats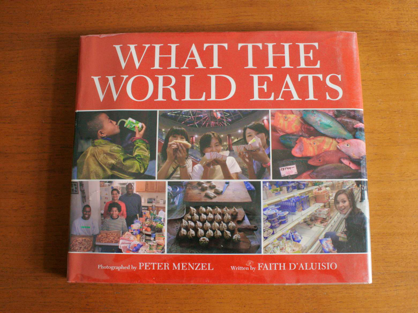 Since this book has been on my "to be read" list for years, I finally got it from inter-library loan and enjoyed it immensely. I give it five stars even though the statistics are a few years old (they would be much more appalling now!)
This books shows photos of families around the world together with what they eat for a whole week. The packaged American food on far-flung foreign tables (especially Kuwait) was surprising, even though I understand intellectually that those companies are global. And the refugee fare (bottom photo) was sobering.
None of these families came close to what the photo in our home would look like – organic fruits, vegetables, and dairy along with some wild fish. We buy very little processed food, and food with minimal packaging. If I had to pick a family's spread that in this book closest to ours, it would be Bhutan with lettuce, fruit and fish instead of rice.
Anyway, check out the photos below as a teaser, and then get the book, for a vigorous family discussion like it elicited in our home. This book would be great for homeschooling too, as a great supplement for Geography. Anyone would find it interesting. The authors have a more recent book titled What I Eat which covers 80 personal diets around the world; I've now requested that from my library system, for further perusal.
We all make food choices. How do yours compare?