Book Review: Chasing Harry Winston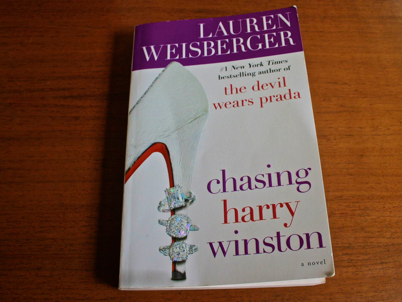 Something about summer requires some good chic lit. (Normally I'd call it a "beach read," but the beaches I've been on recently were too gorgeous for reading anything…) Anyway, the kind of book I mean is something far from great literature or demanding concepts. I like it for it's fashion, it's indulgences, the food and travel descriptions and hopefully an end message of self respect and dignity. My version of good chic lit can't be smarmy or smutty, and needs to be slightly more intelligent than something that would overtly classify as a romance.
This book qualifies on all counts and I give it three stars for it's genre. It had the interesting details of privilege, and while I was dubious of it's premise, it ended with the required message of self-respect. It didn't qualify for five stars for me because it was a proponent of causal sex and the coy manipulation of men, a view I do not share nor think is necessary. But after reading it through I was satisfied that the book ends hinting at that same conclusion, even though no one was worse off for their indiscretions, as is so rarely the case.
The premise of the book is stated in the title. It would seem to someone as uninformed as me that some man is to be chased, but the Harry Winston referred to is actually a renowned jeweler on Rodeo Drive, specializing in engagement rings. The three diamond rings on the cover along with a wedding heel suggest that the three friends are all chasing marriage itself, which sounds sadly shallow. But I'm happy to report that this was not the only aspect going on in their just-turning-thirty lives, and that marriage was not sought to legitimize them nor validate them as individuals. These three friends were arguably interesting enough in their own right, regardless of their romantic intrigue.
I chose this book since it was the latest by the author of the Devil Wore Prada, a bestselling book I enjoyed, which was made into a box-office-hit movie grossing 300 million dollars. This new book packs much less of a punch than her first, but still is fun if your expectations for chic lit are low like mine are. While this "vacation reading" was enjoyable and more than slightly vapid, I'll now turn to something more enlightening, profound and edifying.