Recipe: Tempeh Burgers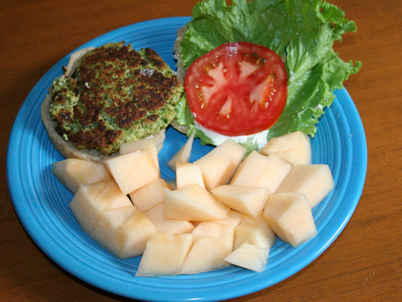 My husband and I like these. They pack a punch of meatless protein and are delicious and satisfying. I got the recipe from the South Beach Taste of Summer Cookbook. See the photo below if you are unfamiliar with buying tempeh; you can see what the package looks like. (It is pretty generally available; we get ours at Trader Joes; any kind is fine.) We often make a double batch of burgers as they keep fairly well and are an instant meal. Three recipes of Aioli to two recipes of burgers comes out better in proportion in our opinion, as the burgers are somewhat dry and need the extra moisture. In these we used our bumper crop of homegrown parsley, which is what makes them green. Try them and enjoy!
Grilled Tempeh Burgers with Horseradish Aioli
Aioli:
2 tablespoons mayonnaise 
1 1/2 tablespoons prepared horseradish, drained well
1/2 teaspoon grated lemon zest
1 teaspoon fresh lemon juice
2 garlic cloves, minced
Burgers:
4 scallions, roughly chopped
1/4 cup roughly chopped parsley
1 garlic clove
1 (8oz) package tempeh, crumbled
2 teaspoons Dijon mustard
1 large egg
1/4 teaspoon salt
1/4 teaspoon freshly ground pepper
4 whole grain hamburger buns
4 large lettuce leaves
1 tomato thinly sliced
For the aioli: In a small bowl, stir together mayonnaise, horseradish, lemon zest, lemon juice, and garlic.
For the burgers: In a food processor, combine scallions, parsley, and garlic; process until finely chopped. Add tempeh, mustard, egg, salt, and pepper; pulse until mixture comes together. Form mixture into 4 patties, 1 inch thick.
Lightly coat a grill or pan with olive oil and heat to medium. Grill or saute burgers until browned and heated through, about 4 minutes per side. Place burgers on buns and top with aioli, lettuce and tomato. Serve warm.