Recipe: My Vegetable Lasagna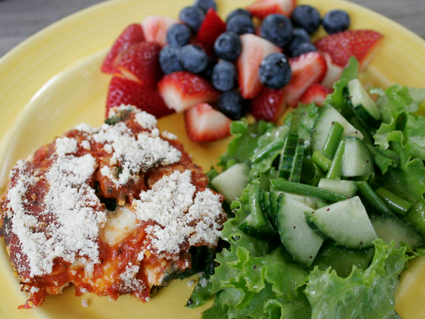 I've cooked this lasagna enough in the last 27 years to call it "my" lasagna, even though it came from the well used 1984 cookbook depicted in the photo below. I often make it when dealing with a crowd: relatives, birthday parties, and my oldest's high school graduation event. It is good for regular company too, especially because it can be made ahead of time, and put in the oven when they arrive, leaving you time to actually enjoy your guests.
Today I made it for just the two of us because we had a bumper crop of spinach; this uses lots of it, and it freezes well when wrapped up in individual pieces for reheating. We all think the leftovers are more tasty than the first time around, and a reheated frozen slice can really hit the spot when you don't have time to make dinner.
This is a labor intensive dish and not inexpensive to make, but it is twelve main dish servings of delicious food so it is well wroth the effort. Using my food processor streamlines the preparation process quite efficiently. This recipe creates lots of pans to be washed, and I must thank my dear husband on that account, because he's usually the one that washes them.
Anyway, this is an eating pleasure worth the trouble; you'll be glad, like I am, to have it in your repertoire.
Recipe for Vegetable Lasagna
10 whole wheat lasagna noodles (8 oz)
2 tablespoons olive oil
2 pounds spinach
1/2 pound mushrooms, sliced
2 medium sized carrots, grated
1 medium-sized onion, chopped
2 cloves garlic, minced
1 1/2 cups (15 oz jar) tomato sauce
1 1/4 cups (12 oz can) tomato paste
1 1/2 teaspoons dried oregano
1 teaspoon dried basil
3 cups ricotta cheese
2 eggs
4 cups (16 oz) grated Monterrey Jack cheese
1 cup freshly grated Parmesan
Fill a large saucepan with water. Bring water to a full boil. Add lasagna noodles, reduce heat, and cook noodles in simmering water until tender, about 7 minutes and then drain. Mix 2 teaspoons of oil with the noodles and set aside.
Rinse the spinach well. In a medium sized saucepan, cook spinach, covered, without water except for the drops that cling to the leaves. Reduce heat when steam forms, and cook 3 to 5 minutes. Drain and chop. Squeeze spinach dry with paper towels.
Preheat oven to 375˚ F. Oil a 13 x 9 inch ovenproof casserole.
In a large saucepan, heat the remaining oil; cook mushrooms, carrots, onion, and garlic until tender but not brown. Stir in tomato sauce, tomato paste, oregano, and basil.
In a small bowl, beat eggs into ricotta cheese until smooth.
In the casserole, place 1/2 of the noodles; then 1/2 of the ricotta cheese mixture; then 1/2 the spinach; then 1/2 the Monterrey Jack cheese; then 1/2 the sauce. Repeat the layers for the other half of each item.
Bake for 40 minutes (or it will take an hour or more if prepared in advance and cold from the refrigerator.) Sprinkle with about 1/2 cup of Parmesan cheese. Let stand ten minutes before slicing. Serve with the remaining Parmesan cheese.