Home as Hobby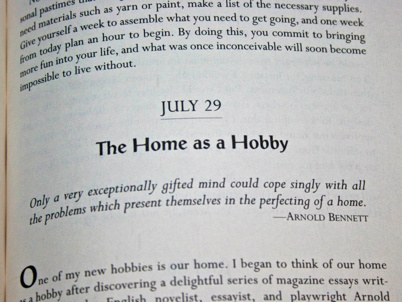 I have started working on de-cluttering and streamlining my office which is one of my major goals for this year. Those that know me are skeptical. They are convinced of my inability to accomplish this, due to my lack of success in doing it in the past.
My office is truly a disaster. It started that no one was to come up here (on the third floor of my house) because of confidentiality issues with my work, but now it is mostly for reasons of pure shame. This has been a thorn in my side for many years now.
The situation has been compounded by four factors:
stuff from homeschooling

stuff from closing three relative's homes

no time (I'm busy!)

a dire hatred of doing anything about it
If I look at the big picture, I would agree it is a hopeless mess. But after alternatively beating myself up about it and ignoring it completely, I am finally ready to move past this!
The source of this imperceptible change – to anyone but myself – must be spiritual since it is so subtle and internal. I am just methodically starting where I am without recrimination, and doing one thing at a time. I am not underestimating the time involved, but am finally willing to invest it. I could write a whole blog entry trying to analyze why I'm ready to do it now when I haven't for ten years, but I won't.
What I want to share is the marvel that I'm starting to glimpse this process as fun! Did you just feel the earth shift?! The dreaded chore sense of this monumental task has lifted and been replaced with a mellow perception of wonderful possibilities! Hatred needs to be replaced with love does it not?
So in this spirit you can imagine how delighted I was to see today's entry in Simple Abundance: A Daybook of Comfort and Joy by Sarah Ban Breathnach. Back in 1995, when I was still a structural engineer commuting twenty hours a week to work in New York City, I liked this book enough to buy dozens of copies to give as gifts. Now I have not only my copy in my house, but my mother's and my aunt's as well; I have them around to dip into (on whim) to see what was written regarding whatever day it is. I hadn't done this in a while, so as I was trying to assess (in my office) the wisdom of having a copy of this on every floor of my home, I opened to today's entry: The Home as a Hobby. This idea really clicked for me and feels like a practical tool I can wield going forward on my current monstrous project.
Sarah Ban Breathnach quotes Arnold Bennett, who she claims was as well known in his day as H.G. Wells and George Bernard Shaw. (His "best-loved" book, How to live on Twenty-four Hours a Day, might be worth looking into.)
He writes, "Nobody has the right to be bored in a half-made home. A home which is not a fair expression of us at our best, a home which lacks what it might have, a home which is in any part more ugly or in any part more uncomfortable than it absolutely need be… a home that cannot be run without waste, a home which by any detail gets on the nerves of its inhabitants and so impairs the harmony of their existence – something ought to be done about such a home…. Why not make the perfecting of the home a hobby?"
What a great idea. I may not be domestic at all, but hobbies are something I know a lot about. I have not only enjoyed my hobbies and felt compelled to do them but have been very successful at them as well!
To quote Sarah Ban Breathnach, "Most of us don't think of fixing up our homes as a pleasurable pursuit because we approach it as a feat requiring more physical, psychic, creative, and financial resources than would be necessary to scale the most formidable mountain in the world. This morning, for instance, I would rather go over Niagara Falls in a barrel than tackle our basement. But I would also love to carve out a little space for an art studio where I would have the space to dabble in my textile designs. To accomplish this, I have to redeem some space from chaos. If I approach our house as hobby instead of chore, maybe I'll find the time to stain the front door, refinish a dresser, varnish the hardwood floor, create a nook of my own."
So I now pronounce (shock of shocks!) that my office itself will be a pleasurable hobby of mine. (This makes sense particularly since what I do in this office is my employment rather than hobby.) As for those naysayers that have no confidence that having an immaculate office is possible in my realm, I'll concede that this hobby, like most, will always be a work in progress, and it can only improve. But like any hobby, as I enjoy it and consistently take the time to do it, it will get better!
Bennett: "Your home may be a small one – most people's are – but you will never have finished perfecting it. The subject is vast and know no bounds." Could this idea even extend to washing windows and painting stair treads?
Now I'm off to work on my new hobby…