The New Whitney Museum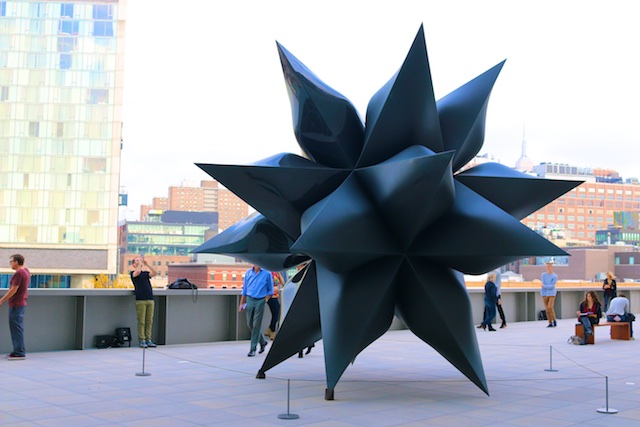 I went to the new Whitney Museum on the lower west side of Manhattan with my friend from college (shown alone below) and her friend from Georgia. I know from my construction background in this city what an enormous undertaking building such a place is, and was thrilled to see how revitalizing its placement is and will continue to be in this area. Indeed, the views of the Hudson extending to the Statue of Liberty are outstanding.
When we visited, only three of the floors were open to visitors. I highly recommend getting your tickets in advance online. We avoided waiting in a huge line because of this– plus they were cheaper– and we were able to walk right in. 
My favorite thing in the museum was what I saw when the elevator doors opened on the 5th floor. There was an absolutely enormous and ingeniously executed acrylic collage, which you can see parts of in the first seven photos below. We also saw the current exhibit, which was a Frank Stella retrospective, as well as paintings from the permanent collection, including work by Edward Hopper, Georgia Okeefe, Amsel Adams, Stewart Davis, Willem de Kooning, and Helen Franenthaler.
My friends had urged me to have tea on the terrace facing the Hudson River, which we never found, seeing only a cafe on the back facing the skyline. And they had raved about both the architecture and the art, so much so that my expectations were too high. Therefore, I encourage you to check out this jewel and its fascinating surrounding neighborhood (I particularly loved Chelsea Market), but don't go with any preconceptions. It took us very little time to whiz through this museum, but it made me want to come home and paint, which is always a desirable outcome. I look forward to other shows held in this place in the future; the large space certainly has lots of potential.