I Gave My Talk on the Spiritual Roots of Abstraction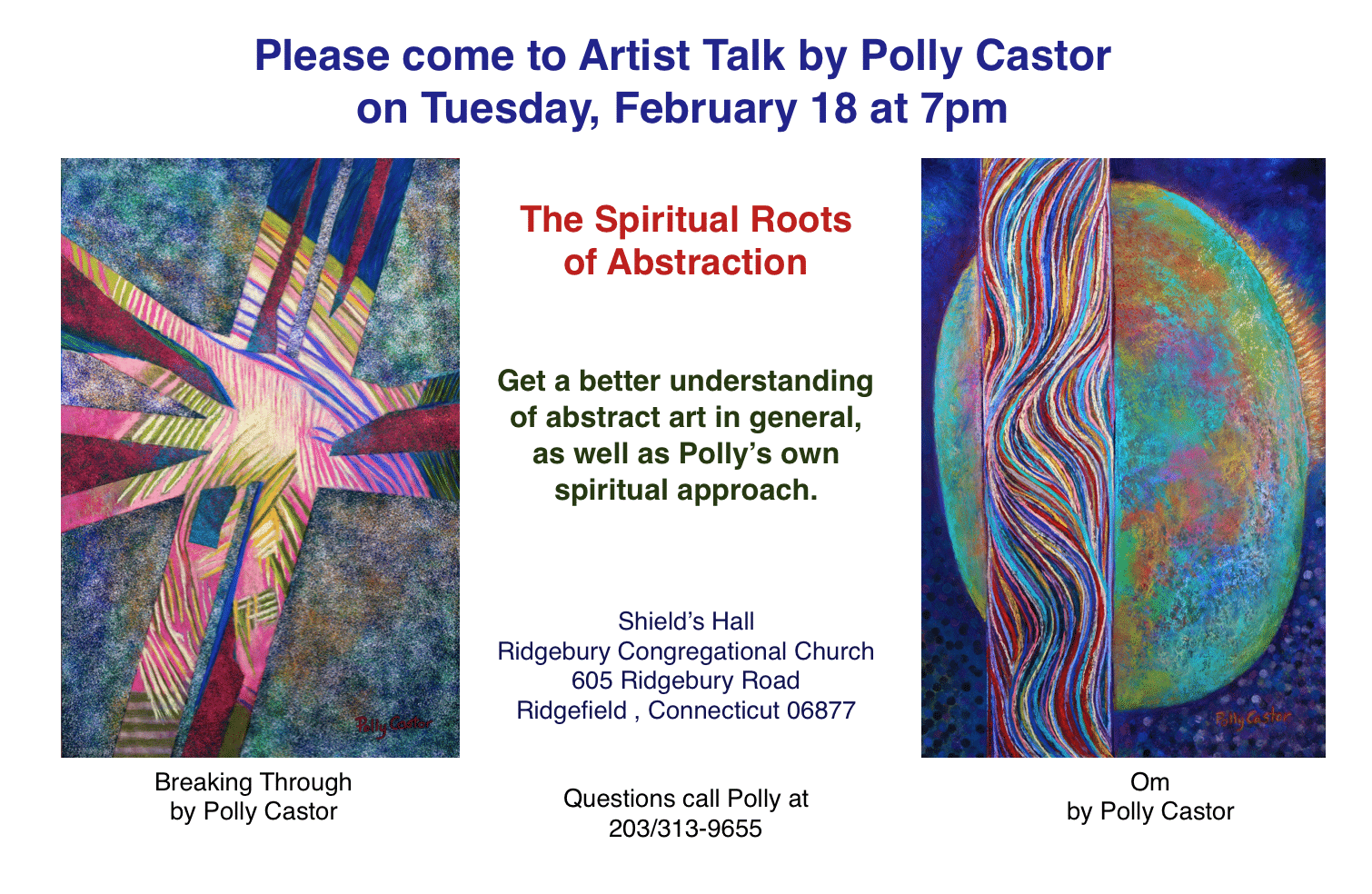 Thank you so much to your fellow blog reader, Deborah, and to Ridgebury Congregational Church for hosting both my current one woman show, and last night's evening presentation. Thank you to all twenty or so of you who attended this event; it was great to have such an engaged audience. One of you drove four hours to come to this talk, staying overnight in a hotel, and she enthusiastically thought it was worth all that. So thank you.
This PowerPoint presentation I have given in modified form for artist groups in the past few years (see here and here and here, etc). But this time I slanted it a bit toward abstraction's relation to spirituality, and with added new work that was in this current show, it turned out a bit too long. Now that I've done it, I see how I could re-juggle it to solve that problem.
For most people when you mention the connection between spirituality and art, they think of religious symbols and mandalas and icons. I explained that for me "spiritual" does not equal "religious," but instead asked them to equate "spiritual" with "non-material." Then I explained how the thoughts, feelings, concepts, ideas, intuition, inspiration, and meditative internal conversation connected with making and viewing abstract art are non-material, and therefore are a spiritual experience. I added some memes and quotes of others who agree, and there was a handout of further pertinent art quotes as well.
Most of the talk was explaining and giving examples of different types of abstraction, in the full range. This is an educational piece I care about, for most people do not understand these distinctions, and especially do not understand abstract conceptualism, which is the core of my work.
But the questions afterwards were mostly about process, which I get into in my workshops. I now see how addressing this in the talk could be a streamlined way of getting the distinctions between the types of abstraction across. It would be very clear how different the experience is between a plein air experience out in the day capturing the essence of a moment, varies from the thinking, analysis, and planning for an abstract conceptualist work, and is different again from the freedom and intuitively internal process of following the unfoldment that occurs in abstract expressionism. When students actually do these different types of abstraction, they fully understand what is involved. Also, pairing reference photos with their resultant paintings could be very interesting, and showing photos of students from my workshops might help give a sense of it all too.
Anyway, it was a nice event and people seemed to really appreciate it. Several people left the talk itching to create, and this is really the point. That inspiration makes me glad, as well as any increased understanding.
We are following up with a one day teaser hands-on workshop in the space where my current show is, if anyone would like to take this to the next level. Both total beginners and experienced artists are welcome. The flyer for that is included below. I'd love to see you there.