I Gave my PowerPoint on Abstraction in Maine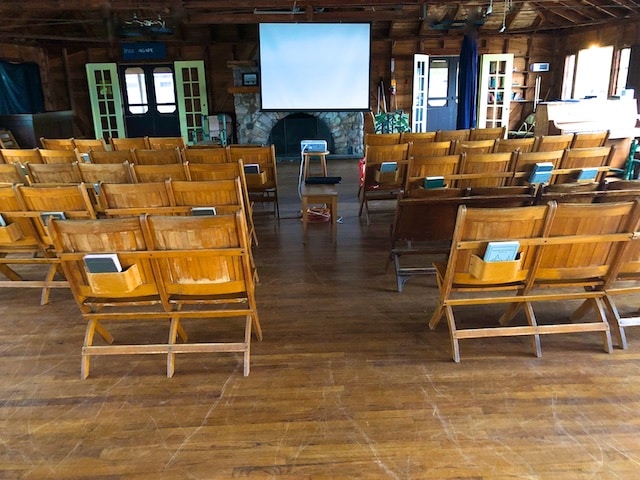 At Creative Arts Camp (where I am busy teaching in the afternoons and being an artist and residence in the mornings) I gave my PowerPoint talk on abstraction last Saturday evening. The talk is titled Abstraction: From Impressionism to Non-Objective Art and it has 300 slides utilizing both my photography and artwork to explain abstract art and help the audience understand it better.
Usually I give this talk to art associations, and although those in this audience are all creative people, not all are visual artists, for it includes theater and improv people, singers, dancers, and writers in the group as well, which made this time presenting this material feel very different. Because this group has metaphysics in common, I thought they might especially enjoy learning about this, since the way I see it, spiritual ideas are the not only the underpinnings but the bedrock foundation of abstract art.
My critique of my presentation was mostly because as you can see in the set up above, I was sitting in mid audience, and I now know I do much better when I'm standing up front, and can read the audience as I go along, talking directly to them, instead of among them. I didn't want to say "next," "next," and "next" 300 times, but maybe that would have been preferable? Or maybe I need to insure in advance that there is a remote clicker that works.
My event was well attended and I appreciate so many people coming out, especially since it was at the end of our "free day" and given that we are all so saturated with amazing ideas and input already.
A college visual art professor of 40 years, who is a fellow teacher here this week, complimented the presentation in front of everyone during the question period, and thought it was well put together and helpful. Several people were interested in buying paintings, which of course is always welcome, but wasn't the point of the talk. My favorite comment came from a non visual artist, who told me at the campfire afterwards (while making a s'more) that she had asked for a lovely art kit for Christmas, and had gotten it, but as of yet had not touched it because it was so pristine and beautiful. After hearing my talk, she can't wait to break it out and just jump in and start expressing herself. This comment right there makes my effort worth it.
Mary Baker Eddy said, "Sincerity is more successful than genius or talent." What came out for me in discussions after my talk is that the reason that most people do not resonate with abstract art is that often what you see in contemporary museums expresses a lot of artifice and posturing, which in art, as in life, is not very attractive or desirable. This talk hopes to open the doors of abstraction to more authentic voices, since we all have so much love and perspective to share.
Anyway, if you want me to give this talk to your group, let me know, for it is always satisfying to remove impositions unnecessarily overlaid on abstract art.  I love it so much and it is so often needlessly misunderstood.