My Grandmother's Bed in its New Home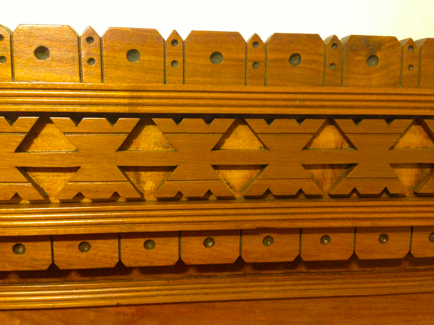 You may remember this poem of mine about our oldest daughter moving out of her room. Well, she's still got stuff in there, and we haven't made it a proper guest room yet. We are still in a period of transition.
However, back in 2006, I inherited my grandmother's bed and we've always intended that it would end up in this room when it becomes a guest room. Meanwhile, since our daughter took her own bed to grad school, she needed a place to sleep when she came home for the holidays, so it made sense to install the antique bed now, even during this interim period, before we've imagined further what we want the room to look like.
We had to order a special sized mattress since this old bed is called a 3/4 (of a full). Any tall people will need to curl up in this bed, for it is designed for smaller people over a hundred years ago. But it's size lends itself to this rather small room just perfectly.
My memories of this bed go back to my early childhood prior to kindergarten. It is wonderful to have it at long last established in its next dispensation in our home, even though it is not yet as properly coiffed as it will eventually be.
Tonight will be our daughter's first time to sleep in it. Sweet dreams to her and to this loved bed: welcome to your new home! Did this bed ever dream of living to see an ipad, let alone holding an adult great-granddaughter?