Flylady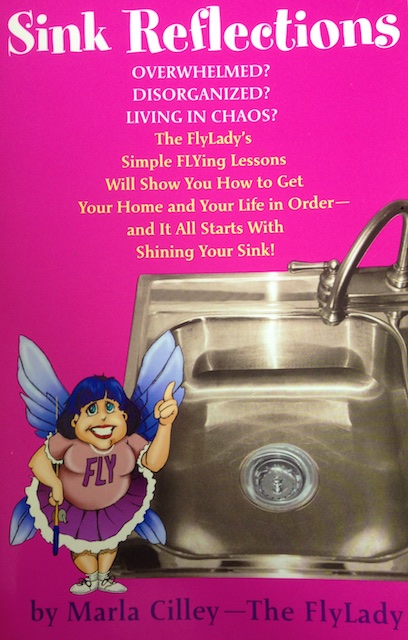 In keeping with my word for the year, I've already been working on body image, and need to get cracking decluttering our home. I've been dragging my feet on it a bit since it is slightly overwhelming, and there are other things I'd rather do. What we need are better habits and routines, as well as a plan of attack on our surplus of stuff. 
First, I'd like to own that we are doing a lot right. We are not living in chaos (acronym for Can't Have Someone Over Syndrome) and we'd gladly have you over for something yummy. But you might notice that none of you have seen our offices, which for me is in the attic (along with a collection of boxes from closing my parents house… ahem… in 2006) and my husband's is in the basement with the rest of the copious overflow. This has been bogging us down, and like I said, we always have something better to do than dealing with all this stuff. But I think we finally are ready to be on the other side of this (rather daunting) task.
I know the KonMari method is all the rage now, and I even have her book, although I haven't read it. Through articles and video clips, however, I get the gist of what she's saying. But her advice seems to make more sense to millennials who don't have as much stuff as our generation does. She wants us to put all of one sort of thing in a pile from everywhere we may have it and weed through it all at once. I have 10,000 books that she says should get down to what, 30? 50?
So in thinking about this, I remembered Flylady, who was a help to us getting organized with routines back when the kids were small, and we were crazy busy with homeschooling them on top of our jobs. Fast forward to now, when my husband and I are empty nesters trying to map out a chore chart for just the two of us, instead of muddling along as we have been. I decided should check her out again, and I'm glad I did. It was helpful for us to look together to an expert for mapping out a plan, and Flylady was a good answer.
You can check out Flylady on her website, where she recommends starting out with a clean kitchen sink. She also has daily and weekly routines that break down housework into chunks of 15 minutes or less. Each week she also has a zone (or area) that you focus on, living room, kitchen, etc, with specific things to do in those areas that week, and then the zones are repeated monthly. It became clear that we could eventually achieve the home we wanted in about a half hour a day each, broken up in small tasks. When those tasks were done each day, we would not have to give it another thought; if we stayed on the program, we'd see it snowball.
Fortunately, I have a dear husband who is available to split the list with me, so it makes it seem extra manageable. We kept what was has already been working for us (I plan meals, grocery shop, and cook, he washes dishes, does laundry, and pays bills), and we built on that. You can see how we divided it up below. This will take us beyond maintenance to improvement around here, all in tiny bits.
The concept of what FlyLady calls "super fling boogie" we are both to do for 15 minutes each day for five days a week in our respective offices. This entails quickly finding 27 things we can get rid of (to trash or donate) each day. How many months at 15 minutes a day will it take? We'll see, but it is a manageable plan, and I think if I tackled it KonMari style, full-on doing nothing else from now until August, I couldn't get it done. But whittle at it systematically in short bursts? Yes, I can commit to that, while still working on what matters more to me. After all, we didn't make this mess in a day and it will take more than a day to unmake it.
The book shown in the photo above was printed in 2002, and I think I've had it since then. I was glad to return to it, but frankly, the information on her website now eclipses it. If you need better housekeeping routines or want to join us in flinging away 27 things a day, check out the Flylady. Meanwhile, all your good thoughts on us keeping up our stamina for this vast project will be appreciated. 
And for those that are curious, FLY is an acronym for Finally Loving Yourself. And why 27 things on the fling? The number 27 in Hebrew denotes clean and pure… She calls the whole process we are embarking on Home Blessing, which I find particularly apt. Isn't that what we want to do?