Visit to Worcester Polytechnic Institute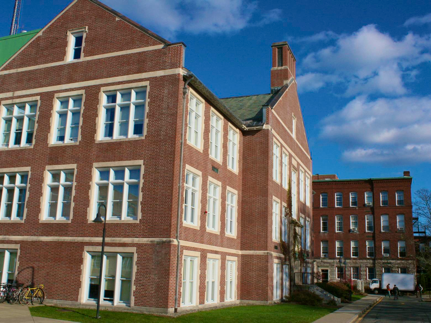 Today we visited Worcester Polytechnic Institute, or WPI as most people refer to it, in Worcester, Massachusetts. We left with a positive impression.  We have known some kids that went here; they were happy with the experience and have good jobs today.  One of the draws here that will cause my son to apply is they had the first accredited program in Robotics Engineering. (There are only three in the country.)
WPI was founded in 1865 to be a place where science and technology meet real world challenges.  They offer 50 undergraduate and graduate degrees in science, engineering, technology and management, and have a program to get both a bachelor's and a masters degree in five years.
A friend of Andrew's (that converted his own car into an electric car) got wait-listed at MIT and chose to go here as his second choice. Our two friends that graduated from here did fascinating internships abroad while students here: one shored up underwater foundations in Venice, Italy and the other worked on a water purification system in a remote African village.  If you have your own idea for a project, all you need to do is find faculty to back you up and then run with it for credit. 
In the robotics department, my son saw kids he has competed against in FIRST Robotics.  It was fun to see the banners and FIRST trophies on display: his own team has won the Boston regional twice. The robotics department here mentors a local team, that not surprisingly with such support, does very well.   The school is constructing a new athletic facility where the first floor will include a large robotics pit!
The campus is lovely and all the students seem well rounded, down to earth and happy.  The motto is "Theory and Practice," and there is a practical project oriented approach here. They have four seven week terms where they take three classes each term separated by ten days off.  Their extensive project abroad program sounds pretty exciting.  When these students graduate, they already have some real world experience, and are snapped up by the job market.  The school places 90% of their students in jobs or graduate school and the starting salaries out of school are enormous.  This place will be a definite possibility for my son as he considers where to go to college.