Recipe: Salsa Verde Tilapia Enchiladas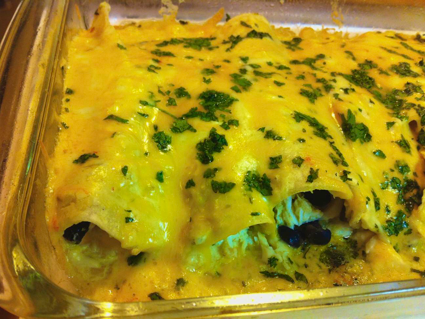 These salsa verde enchiladas are unbelievably delicious!
Salsa Verde Tilapia Enchiladas
3 cups poached tilapia crumbled in bits
1/2 cup black beans, rinsed and drained
1 jar (16 oz) mild salsa verde (I use Trader Joe's)
3 green onions, thinly sliced
fresh juice from one large lime
1/4 cup chopped cilantro leaves
8 (6 inch) corn tortillas
4 ounces (1/2 a 8 oz container) of sour cream
1/4 cup vegetable broth
1 cup of shredded Mexican blend cheese
Stir 1/4 cup of salsa verde into tilapia and beans to evenly coat

Preheat oven to 350˚F

Grease 13×9 inch baking dish, and set aside

In 12 inch skillet, heat remaining salsa verde, green onions, and lime juice to boiling over medium heat. Boil 2 minutes, stirring occasionally. Stir in 1 tablespoon of cilantro; keep warm over very low heat.

With tongs, place 1 tortilla in salsa verde mixture; heat 10 seconds. Place on wax paper; top with about 1/3 cup tilapia/bean mixture. Roll up tortilla and place seam side down in prepared baking dish. Repeat with remaining tortillas, arranging 8 tortilla in dish.

Stir sour cream and broth into remaining salsa verde mixture in skillet; spoon it over filled tortillas. Cover baking dish with foil and bake 15 minutes. Remove foil, sprinkle with cheese and remaining cilantro, and bake until cheese melts (about 5 minutes).

Serve immediately!
Makes 4 main-dish servings.
(Leftovers are not as out-of-this-world, these are more succulent when fresh, so if you need only two servings halve the recipe in a square baking dish.)