Ramses Series (Book Review)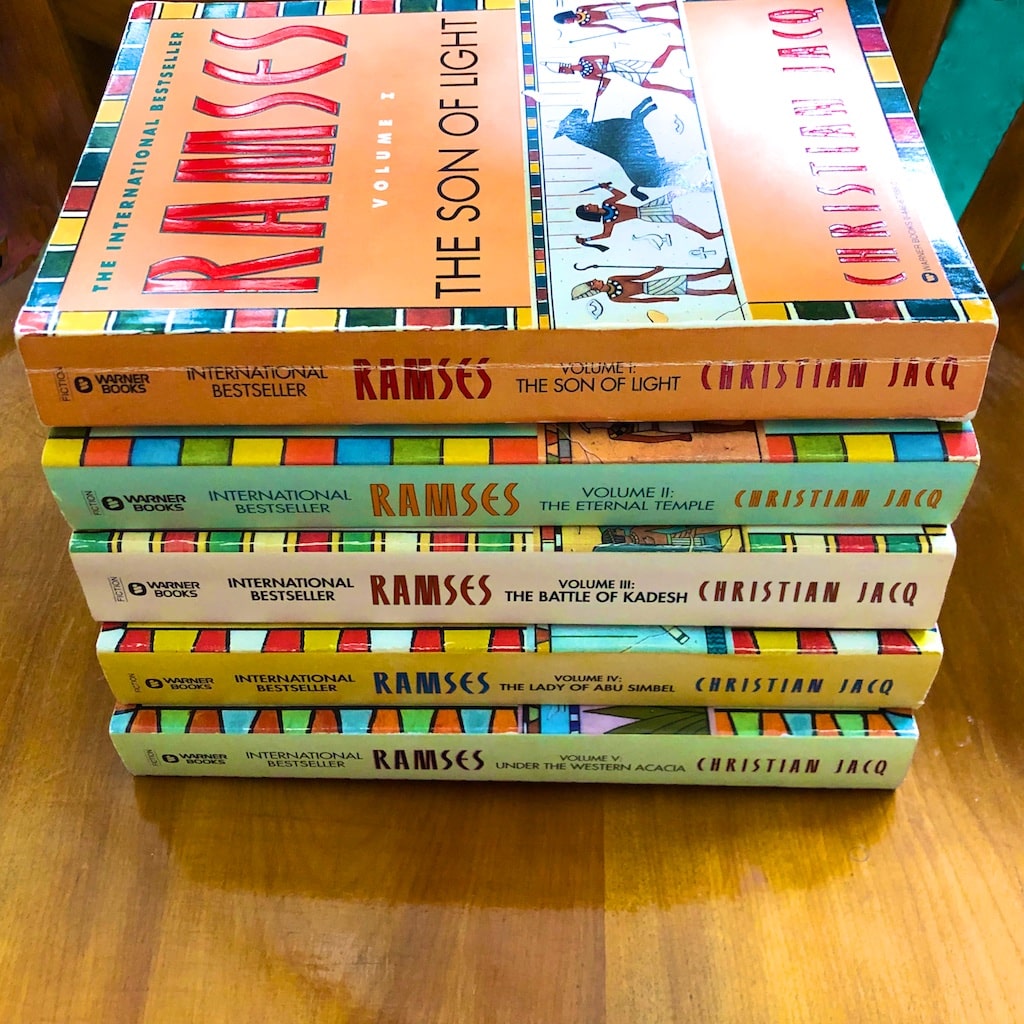 When we were homeschooling, we taught history chronologically, starting at the beginning of time moving to the present day. The whole household would steep itself in a given time period, and we loved it. At the time we were "doing ancient Egypt," this series of books was the hot thing, and I knew other homeschooling mothers who were reading it. I wanted to read it too, but was working as well as homeschooling, and my schedule wouldn't allow for it. So last summer, when at the Newtown library sale I spotted all five of this series, I snapped them up. I'm so glad I did. I read them together with my husband and we both enjoyed them.
Ramses the Great was called that for a reason. When you just read the Bible, or see the Ten Commandments movie, you do not really get a sense of him. This sweeping saga, written by a professor of Egyptology in France, takes care of that. Playing up Ramses, the Moses aspect is downplayed, but present. Much more present in the story are the Hittite rivals to the north, who reveal to us not only the might and wisdom of Egypt and its Pharaoh, but their simple grace and purity of motive.
The foremost guiding principle in ruling Egypt was preserving Ma'at, or truth, justice, harmony and balance. Focusing on this is what made Ramses great. He lived to old age, had a pet lion, employed pirates, befriended Plato, missed Moses like a long lost brother, inspired loyalty, was looked after and protected by the gods he served, had three children, and loved two queens. He opposed slavery, believed in peace, helped hurting elephants, and was friends with spies and snake charmers. He built temples and cities, kept scrupulous records, and created a legacy to live forever. Here we are 3000 years later, reading his story, and loving him.
This is blockbuster fiction and not great literature. It is easy to read and uncomplicated except for convolutions in plot. The author was a scholar who only divulged what he knew when it was in service to the story. Because it is a series of five books, it does get a bit repetitive in spots, for the author feels the need each time to reintroduce the characters, which gets a bit tedious the fifth time around. For these reasons I give it only four stars. However, it is surprisingly effective in giving you a sense of the time, of their culture and belief systems, of the settings, and the loves and struggles of the people. A lot of knowledge and research is distilled in this winning story, in a way that can be comfortably digested and long remembered.
I heartily recommend immersing yourself in Ramses' world for a while. Bask in his ka (the part of his soul that lives on after death).  He was a noble leader, who prioritized pleasing "the gods," and spent his life working tirelessly for what was best for his country, which is so commendable in any age.