Book Review: Three Junes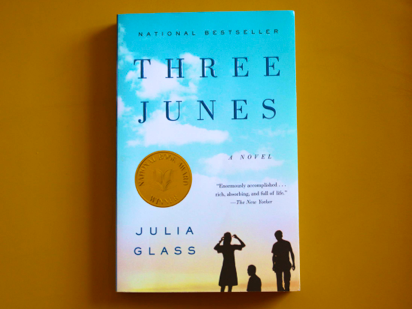 When I read The Widower's Tale a while back, I stated that I wanted to read this first book by this accomplished author, and I finally have. I read it now because a tangential sequel to this one has recently been published, which I want to read even more, so since this one is the backstory for the new one, I started here.
I had initially hesitated in reading this acclaimed book because homosexuality is one of the major themes. But I found those concerns unnecessary because of the graciousness with which it was handled – it is very present but neither heavy handed nor defensive at all, unlike what I've experienced in other books. And while not a fan of reading about disease in general, I wasn't thrilled to read the detailed account in the middle of a friend and neighbor dying of AIDS, but this also was handled with such love, sensitivity, and humanness. I found that part moving and full of compassion.
There are three stories in this book (hence the title) with overlapping characters revolving around a Scottish family of three boys. There really is no plot, so the lack of conclusions at the end felt a bit disturbing. I wanted a book club with which to hash out what people thought would happen next! I am wondering if any of the answers to these questions will be present in the next book, but I expect not, if the flimsy, circuitous ties in this one serve as any example going forward.
The writing here is the central point and it is so glaringly excellent, while still easy to read, as to make the reader never want it to come to a conclusion. Also I really liked her characters because they all breathed so real, jumping off the page into more than an acquaintance in the imagination. I would be happy to meander with them more in the future.
I give this honest, handsomely portrayed novel four stars. If you want something plot driven that is all tied up neatly at the end, you will be disappointed. But if you enjoy phenomenal writing, and themes of family and relationships, presented as just a slice of life that continues with complications from any present moment, you'll be glad to have read this.