Schoodic Peninsula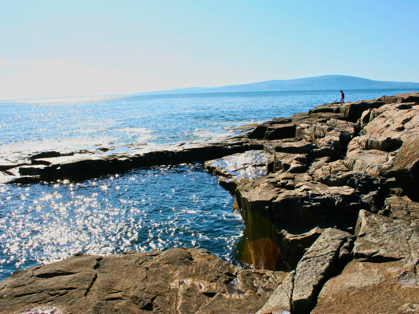 My daughter and I made our annual trek to the Schoodic Peninsula which is another separate region of Acadia National Park, about an hour north of the main part of the park.
I copied the explanatory sign for you to see in this post (as only a homeschooling mother might do) to explain the interesting geology of the place. Long ago volcanic rock came up in the cracks and hardened, which explain the ribbons of black rock (basalt) in the granite. The basalt then erodes more easily, causing what we call tongues of granite to stick out into the ocean (as seen in the picture above; that's my daughter in the photo for a sense of scale). These are a joy to climb around on, explore, and contemplate restfully on, with a view toward the hills of the main portion of Acadia across the water.
This spot is famous for it's waves bursting against these formations, but we hit the spot with the tide going out, so we not only had it quiet, but also had it to ourselves, right through sunset. The late sun is stunning against some of the rocks and their lichens, and it is fun to photograph their reflections in tide pools. We explored some other areas of the peninsula before returning to Schoodic Point for an awesome sunset.
Our day ended with a meal we think about all year: we love the swordfish at Fisherman's Inn in Winter Harbor, Maine. It is a homey place and and truly a treat; swordfish doesn't get fresher than this!
Enjoy the photos below of our spectacular surroundings!