Eastern Shoreline of Mt. Desert Island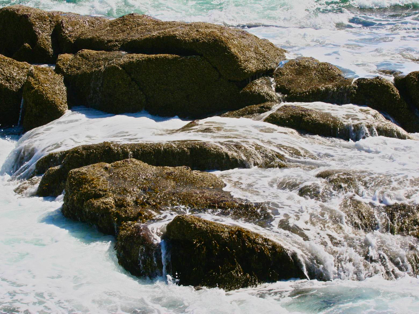 Today we visited the eastern shoreline of Acadia National Park's main island at Sand Beach and near Thunder Hole. These two spots, while very near each other, couldn't be more different. One is sandy and calm, and the other rocky and crashing. I was particularly inspired by the later today, and stayed in one place to watch the whole procession of the incoming tide, which thoroughly amazed and impressed me. I put the early photos next to later ones for you to compare what a little tide can do. And then you've got to love the spray, the water color and the trickling over the rocks…
God was there, and I'm not the only one that felt it. The Mennonite couple I photographed, her in her cap and him in his hat with his arm around her so quiet and earnest and still – they felt it. And I saw several openly meditating, as the picture of the gentleman in the baseball cap shows. It was a sanctuary, and I realized that this trip is like a pilgrimage for us. We bask in His glory and are refreshed by His creation. We remember that He is enough for us, as we are for Him.
All that worship made us hungry so we had an early dinner on the lawn harbor-side in Bar Harbor. We discussed a cruise ship in the harbor the whole time – since my daughter was fascinated by the fact that something that huge would not sink! Then we did what any self-respecting tourist would do in a classy tourist town: we shopped in a beautiful store for gifts for my oldest sister's birthday and my nephew's wedding.
The sunset on the way back to the cabin was again amazing and caused me to halt roadside to photograph it. (Check out that purple water!) Enjoy the photographs below of our meaningful day: Sand Beach first, then Thunder hole, and then Bar Harbor.