New Poem by Me: Marriage a Secure Friendship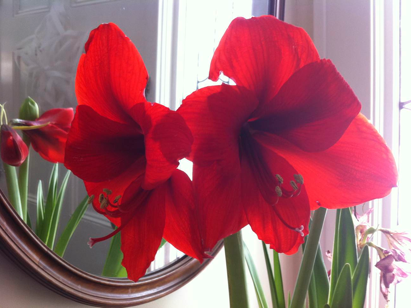 Marriage a Secure Friendship
It's the last day of the long President's Day weekend.
All our children were away:
one at college; two at a four day church youth retreat
So we had time alone.
We went out to dinner and saw a couple movies.
But mostly we talked: we talked (and talked)
from breakfast on Saturday until mid afternoon
and couldn't stop after Sunday lunch either.
We kept trying to pull ourselves away
to go get done what we thought we needed to do
until eventually we realized that this
was exactly most important.
What touched me most was
he emphatically told me that I was his best friend.
Now, of course, I knew this (and he is mine)
but the truth of it (and the power) struck me head on.
We have supported each other
as best we can over mountain and through valley
We have loved the essence of who each other is
regardless of what is done or left undone.
It is easy to feel insecure in a relationship:
Are they (or am I) too much this or too little that?
Should I (or they) do more of this or less of that?
The balance is precarious at best for any two people.
It's easy to be afraid:
Will they (or I) be constraining, annoying, demanding, inconsiderate, critical or deficient?
Will I (or they) be able to overcome past hurts, defensiveness, and emotional scars?
Is our love potent enough to waltz beyond the confusing immobilization of fear?
It is easy to reserve trust:
Am I (or they) open, honest, reliable, available, accessible, genuine, safe, sure?
Are they (or am I) solicitous enough, nurturing enough, confident enough?
Often it is more of a risk not to trust since then you choose to lose at the offset.
Do we go beyond conversation to the deep connection of really communicating?
Are we too selfish or self-absorbed to truly care about another's needs and boundaries?
Are we willing to effectively sort out misunderstandings, never allowing any to fester?
Can we relentlessly let go of all our assumptions about each other?
This is not easy
Who takes the lead when? Who is better than who at what? Is it equally good for both?
Are both mature enough, straightforward enough, courageous enough, patient enough?
None of this is ever clear, definitive, or static.
All of this is especially difficult to decipher since these factors and perceptions fluctuate.
Relationships are organic, growing, unfolding, blossoming and perpetually redefining.
Just when you've figured something out, the terrain, or the weather, invariably changes.
So a strong foundation must be built that allows for flexibility in the emerging tower.
No wonder I was struck by how huge it is what we are discovering together.
We're usually focused on working with it, thorough it, on it, for it, or even in spite of it…
We rarely have the sanctified time or enlarged perspective to simply own the profundity of it:
I have a best friend in my husband and he has one in me.
After two decades, we're just getting started.
There are many further horizons to explore of trusting more and fearing less
But there is no truth we cannot share with each other
And because of our continued transparency, we are secure.
Polly Castor
2/21/11