Recipe: Carrot Ginger Soup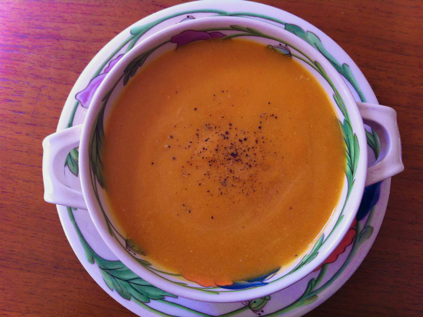 This delicate soup is delicious on its own and also terrific as a base ingredient added to all sorts of other things. It is even good in a mug for breakfast!
Easy Carrot Ginger Soup
2 1/2 pounds sweet, crisp, tender, organic carrots
small red bell pepper, seeded and chopped) (optional)
2 tablespoons butter
1 large yellow onion, diced
4 cloves of garlic, minced
2-inch piece of fresh ginger, peeled and finely chopped
1 teaspoon salt
black pepper
1/2 cup heavy creme (optional) or 1/2 can coconut milk (optional)
Peel the carrots and cut on the diagonal into even 1/2 inch slices.
It a large heavy bottomed pot with well fitting lid, melt butter over medium high flame. Sautée onion, garlic, ginger and a 1/4 teaspoon of salt until tender – about 5 minutes – stirring occasionally but lidded otherwise. Add the carrots, bell pepper if using, and another 1/4 teaspoon of salt, and stir frequently for 5 minutes more. Add enough cold water to cover the carrots by one inch as well as the last 1/2 teaspoon of salt. Bring to a boil, and then gently simmer the carrots until completely soft, about 15 minutes.
Puree the soup in the blender in batches, adding a pat of butter to each batch. (Be careful of the hot liquid; fill blender only half full and start on lower speed.) Then pass the soup through a screen sieve using the bottom of a ladle to press on the solids. Discard any stringy material left in the sieve. Add the cream or coconut milk if using. Taste for salt; it may need a pinch more. Serve hot with a bit of grated pepper if desired.
Enjoy!